For farming operations (pulling a mower, plowing etc.) and industrial operations the Jeep needs to be able to maintain a constant speed. This is accomplished using a governor that regulates the throttle under varying load conditions. Engine governors are standard equipment on farm tractors and where an option on the early Jeeps.
Three types of variable speed governors were installed on the CJs and a fourth style on stationary engines –
King Seeley Governor
Monarch Governor
Novi Governor
Pierce Governor (used on stationary engine applications)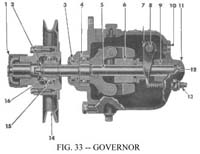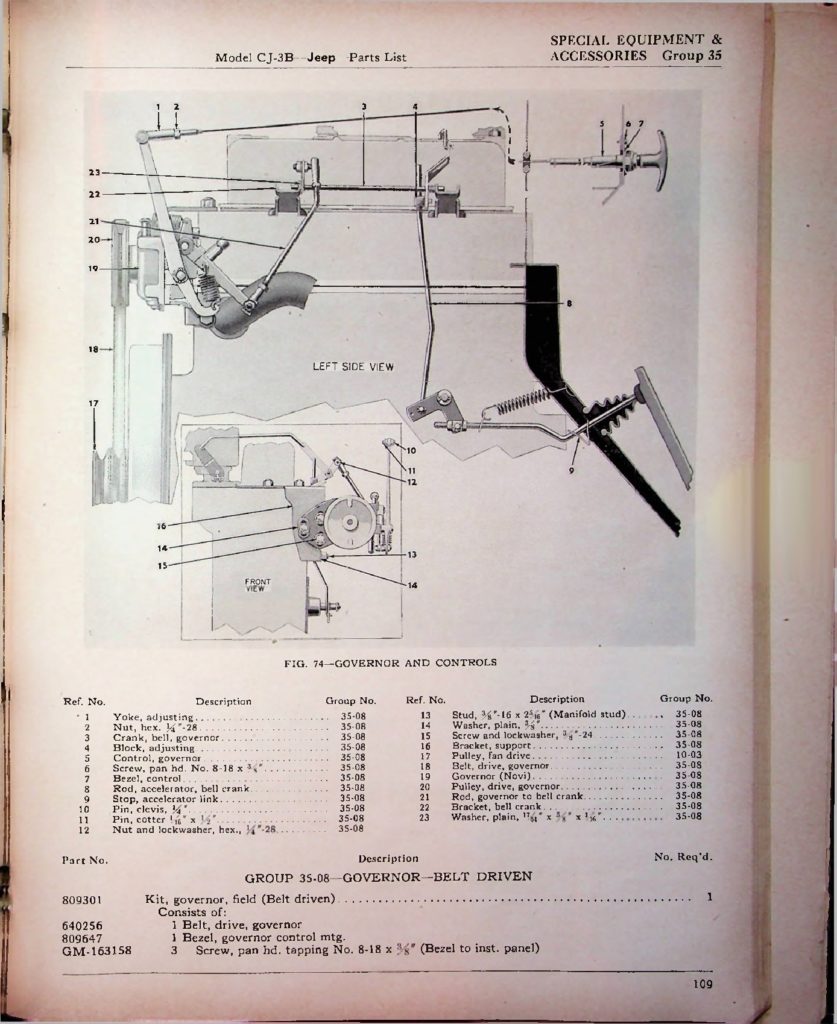 Governor models overview
Greg Robertson has shared his response to a CJ2a Page forum question about the different governors used early Jeeps.
Governor demonstration in the the movies
The importance of the governor in stationary work was demonstrated in a film titled "Workhorses of Industry" that you can see here. The governor demo is at about the 1:40 mark. There is another governor demonstration in the film "Workhorses of the Farm" available from Campbell Films. That film, starting at about the 2:50 mark, shows the governor in action.
Here is an old post from the CJ2A Forum Page –
Here's a little of what I've learned over the last few years that may help some people out.

Governors from the Willys Jeeps KS, MONGOVCO, and Novi are all referred to as variable speed governors, as they all all have the longer control arms on the side to which the speed control on the dash connects. Stationary engines do not need, nor often do they incorporate this feature, so they are sometimes termed single speed governors. Single speed governors for generators and welders and the like will most likely be missing this long control arm, and instead have a short arm with an adjustable stop set-up to adjust the governor to a single speed.

As for pulley configurations, two of the three models of cj-2a governors used a disconnectable pulley for over the road use. The King Seeley and the Monarch. Novis ran constantly.

King Seeley did make other governors for other applications, including applications for tractors and early Ford engines, and one single speed model for the late WWII engines, for use in a gen set or in a jeep with a welder or other accessory. I owned one of those rare WWII Jeep King Seeleys and it was distinguishable from the cj-2a versions because it lacked a disconnectable pulley and the long variable speed arm. I sold that model to a guy on the G, and it now has it's home under the hood of an MB equipped with a welder unit, from what I am told.

I have also had many Novi models from the CJs and one trend that I have noticed with them is that the earlier applications used a cast iron press on pulley, and the models that appeared to be made later used a die cast aluminum or zinc type pulley made by Congress Drives which was retained by set screws instead of being pressed on. Interestingly, Congress Drives is still in business and under a new ownership, I think they moved to Texas now. They still carry pulleys that are very close to the originals from the CJ models, but the bores of the pulley have to be enlarge to fit the Novis special sized shaft.

Another interesting unit I'll mention is a Pierce governor that I obtained that was supposed to be off of a WWII model jeep. It was a single speed governor, but it has this facinatingly complex mechanism for disconnecting the pulley built into the casting of the housing that would have been activated remotely by a lever or cable that I assume would have been located on the dash board. It also has a bracket to attach to the Willys L-head engine. After contacting a retired engineer for Pierce, he found information that it was built in 1944 or 1945 for Willys Overland for use in the Jeep models with a pulley that could be disconnected for over the road use. It may have been intended for use in a jeep with some type of special equipment or it may be for a prototype model. The jury is still out, as I have run it past the members of the G-503 and sent pics to Fred Coldwell and others trying to find info on it. I still have this unit in my collection, I will try and post pics if anyone is interested.

Posted by Daniel Pawlak (used with permission)