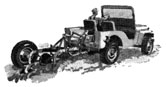 FarmJeep.com is home to stories and information about the post-WWII Willys Jeeps that were real transformers, changing from truck to tractor to power unit in just a few seconds. While the Farm Jeep was a specific model, we apply the term to any Jeep that performs the tasks of a tractor. Here you will find information on the Love, Newgren, Monroe and Stratton hydraulic 3-point lifts that made the Jeep a true tractor. You will also find lists of resources we use for our Jeep projects and for our research activities. History is important to us and whether it is Jeeps in our family or the history of the companies that made the Farm Jeep components, we try our best to be accurate.
A great first step in gaining an understanding of the Farm Jeep concept is to read the 1944 'Jeep' Planning Brochure available on eWillys or here. Before WWII had ended, Willys was making plans to put a Jeep on every farm. You can read about the Jeep as a light tractor here.
We have also been lucky enough to uncover a 70+ year-old movie that tells the story of the Farm Jeep in an infomercial format. This movie explains the operation of the Monroe lift and how the Jeep could be used as a tractor and so much more. The 26 minute movie can be viewed here.
You might also want to start with a look at our frequently asked questions section and then check out the latest blog posting to find out what is new. Be sure to contact us with thoughts, suggestions and, of course, corrections if we got it wrong.