---
This is a special welcome to all the antique tractor show folks we have talked to about the Farm Jeep. We suggest you watch the movie "Revolution in Pleasantville" first, and then come back here for the rest of the story. You can view it here.
---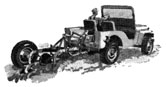 FarmJeep.com is home to the history, stories, and information about the post-WWII Willys Jeeps that were the first farm utility vehicles (FUV), changing from truck to tractor to power unit in just a few seconds. While the Farm Jeep was a specific model, we apply the term to any Jeep that performs the tasks of a tractor. For a quick overview of the Farm Jeep concept, we recommend you read "The Jeep As A Light Tractor."
We try to post to our Blog on a regular basis. You will find the latest news and updates there. Scanning old blog posts is a great way to see how our research is paying off.
Under the Technical Info heading, you will find information on the Love, Newgren, Monroe and Stratton hydraulic 3-point lifts and other equipment that made the Jeep a true tractor. You will also find lists of websites and parts vendors under the Resources tab that we use for our Jeep projects and for our research activities. Also under the Resources tap are links to a large collection of ads and brochures and movies. These items are important sources of information on the uses of the Farm Jeep.
History is important to us and whether it is Jeeps in our family or the history of the companies that made the Farm Jeep components, we try our best to be accurate. There is still plenty to learn about the Farm Jeep and we currently have more than a dozen research projects open. Under the History tab, you will find articles we have written and published, along with notes on our current research efforts.
The Stories and Questions tab will lead you to stories about individuals who have made important contributions to the Farm Jeep story. We try to attend as many shows as we can, to both spread the Farm Jeep story and to hear the stories from people who were there. You might also want to start with a look at our FAQ section and then check out Ask Farm Jeep to find out what people want to know. Here you will also find our own Jeep projects that were the starting point for FarmJeep.com
We have also been lucky enough to uncover a 70+ year-old movie that tells the story of the Farm Jeep in an infomercial format. This movie explains the operation of the Monroe lift and how the Jeep could be used as a tractor and so much more. The 26 minute movie can be viewed here.
Be sure to contact us with thoughts, suggestions and, of course, corrections if we got it wrong.