The farm Jeep was introduced in the summer of 1945 as a tractor replacement and was equipped with a governor, PTO and implement drawbar. One year later, in August 1946, Jeep owners could add a three point hitch that give them the full flexibility of a small utility tractor like the Ford N series. Over the next twenty years, four different model lifts would be available from the factory, the dealer or as kits to be installed by the owner. In addition to these "Jeep Approved" lifts, numerous other lifts were available, including the Love Lift pictured below.
The Monroe lift mounted in the bed of the Jeep while the Love, Newgren and Stratton models mounted to the frame leaving the bed accessible.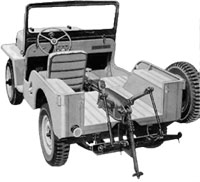 ---
The first lift introduced in 1946 was the Love Hydraulic Lift System that was to be distributed by a newly formed company titled the Newgren Equipment Company. Within a few months, Newgren would modify the Love design enough for it to be considered the second "Jeep Approved" lift. Our 1949 CJ3a is equipped with this lift. In 1948, the Monroe Hydraulic Lift replaced the Newgren model to become the third "Jeep Approved" lift. The Monroe lift was replaced around 1960 by the final "Jeep Approved" lift, the Stratton Hydraulic Implement Lift, a lift that sold into the 1970s. A very interesting part of the Stratton history can be found in the story E & K Products – Builders of the Stratton Lift.
Below are links to information on the "Jeep Approved" lifts.
Monroe Lift
Monroe History
Monroe Hydraulic Implement Lift Parts List
Newgren Lift
Newgren History
Newgren Lift Restoration
Newgren Lift Installation Instructions
Stratton Lift
Stratton History
Love Tractor Co. Lift-Hitch
Love History
These lifts would be incomplete without a hydrualic pump for power, an enigne governor, and of course the implements themselves.