Farm Jeep Ads and Brochures
We've collected several examples of ads featuring "Farm Jeeps" equipped with hydraulic implement lifts. Most of the advertising shows Monroe lifts, however the lower right-hand picture in the "Working Girl" ad features a Newgren. The Jeeps themselves in these ads are CJ-2As and CJ-3As, even though enthusiasts will tell you the official "Farm Jeep" was a CJ-3A or CJ-3B. The 1951 "4-WHEEL-DRIVE FARM VEHICLES" ad featuring either CJ-2As or CJ-3As shows the marketing department had the "Farm Jeep" concept several years before the official model designation. In fact, "Farm Jeep" was one name for the pre-production CJ-2A.
Ads and brochures are more than fun artifacts. They have supplied us with valuable clues in our research. We are always on the lookout for more "Farm Jeep" brochures and advertising (especially those ads featuring Newgren or Stratton lifts, or lifts in use on early CJ-5s), so let us know if you spot any for sale or that we can link to.
In addition to the brochures and magazine ads, we have started a collection of newspaper ads, signs and of promotional films and videos.
Ads From Other Sites
Dave at eWillys.com has searched the archives of the Saturday Evening Post for Jeep ads and has posted them here – http://www.ewillys.com/2019/03/01/catalog-of-willys-overland-ads-in-the-sat-evening-post-1942-mid1946/
Magazine Ads & Brochures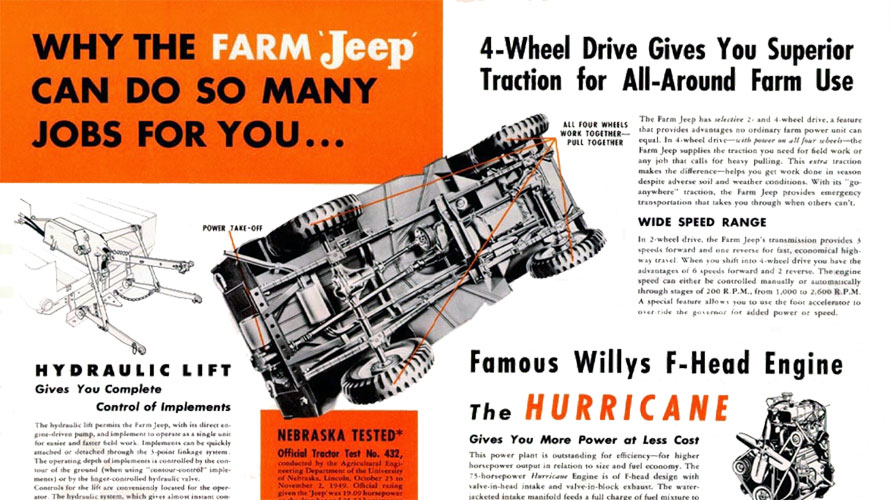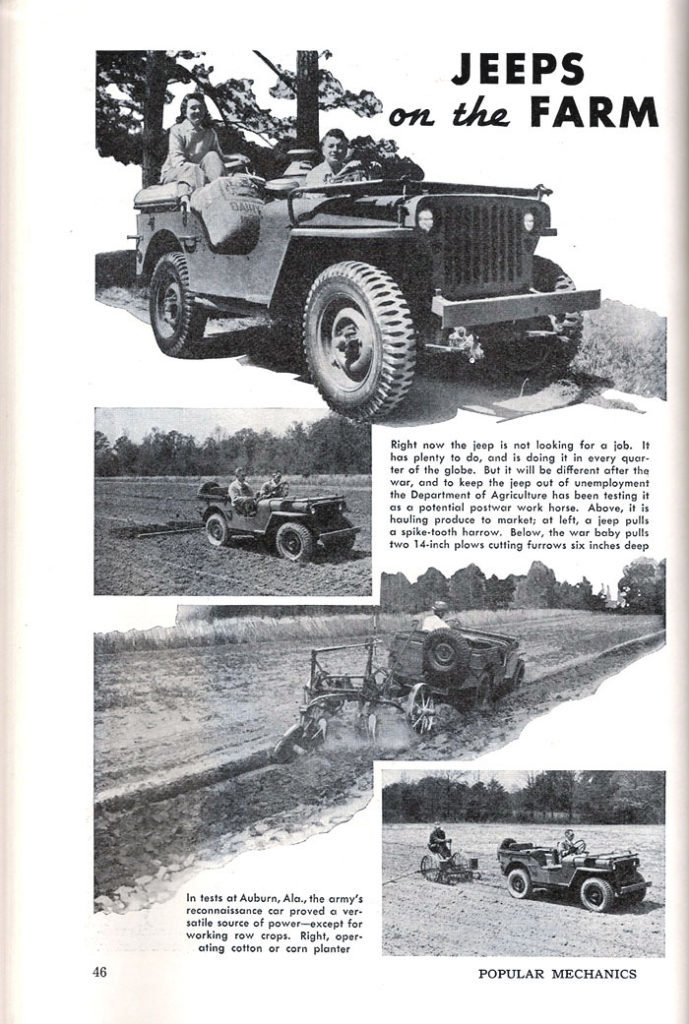 Our thanks to Larry who found and submitted the earliest
promotional article for using the Jeep on the farm that we've seen.
J. W. Heater sent us this very early brochure. Click here to see the complete document.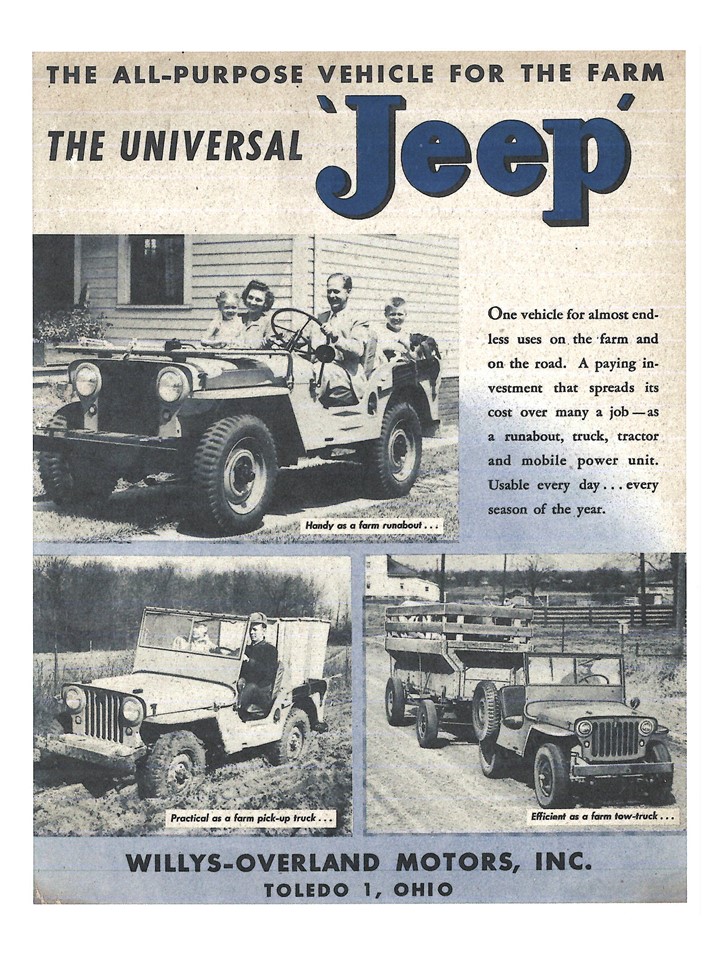 And he also sent us the companion brochure for industrial uses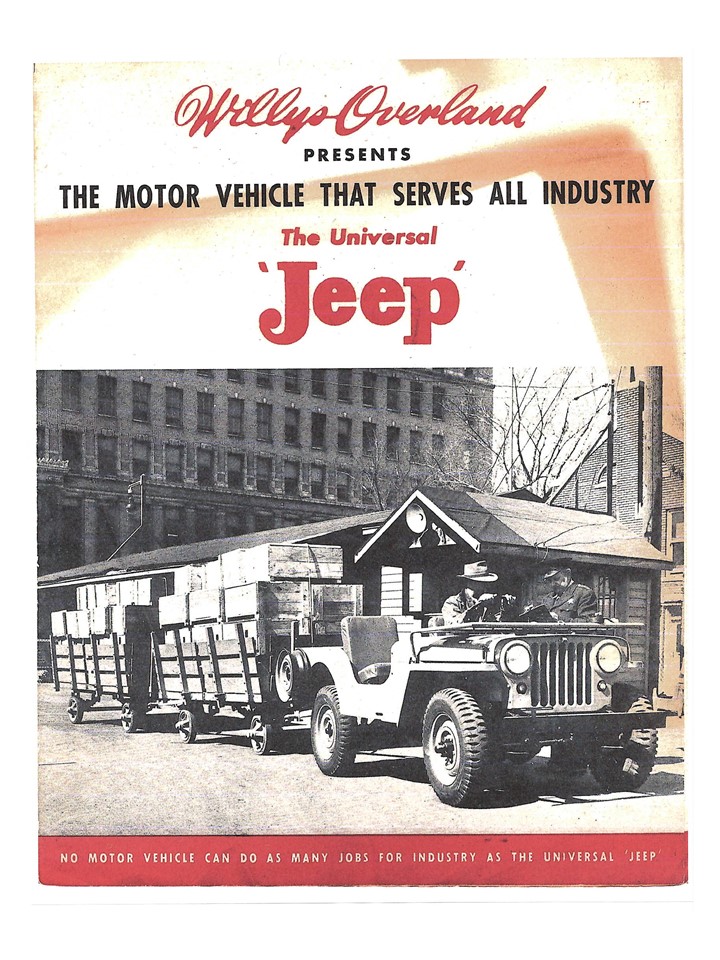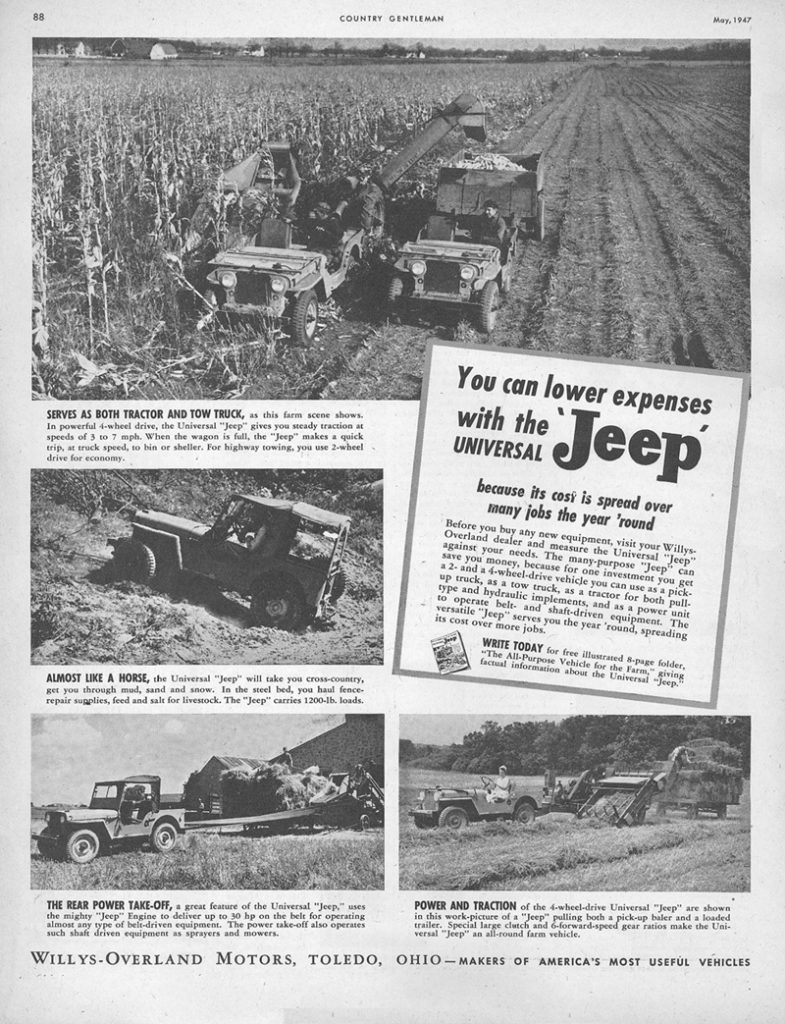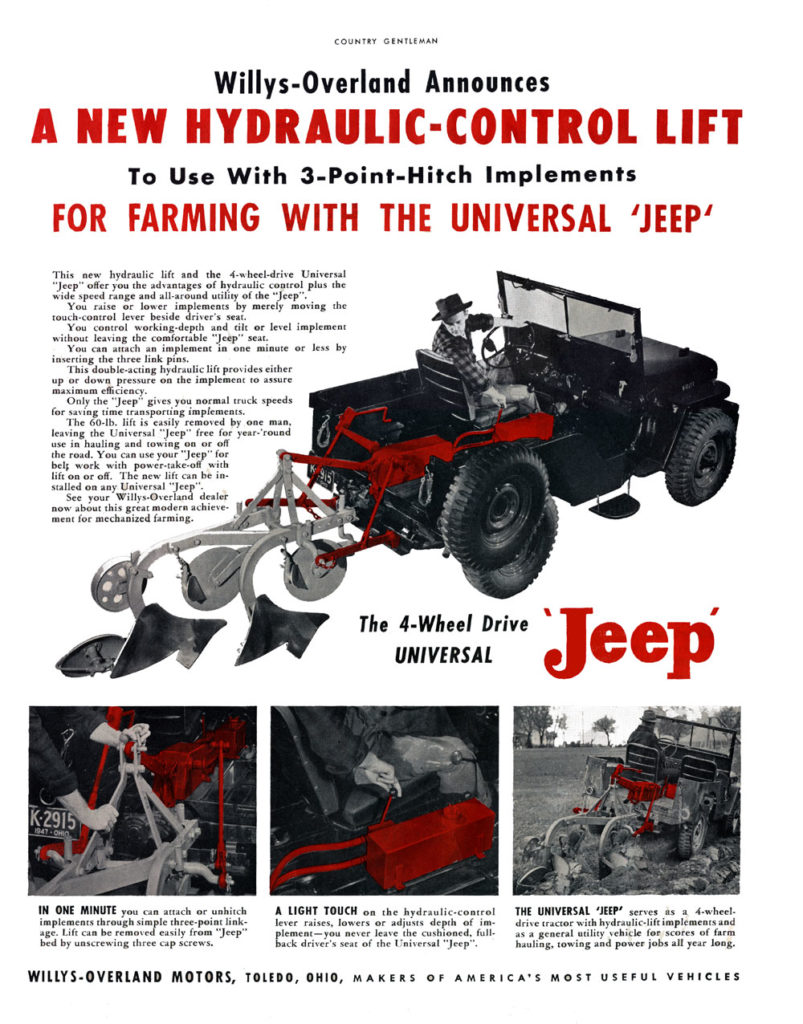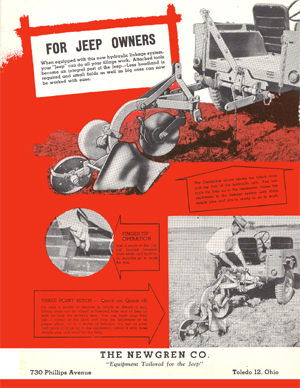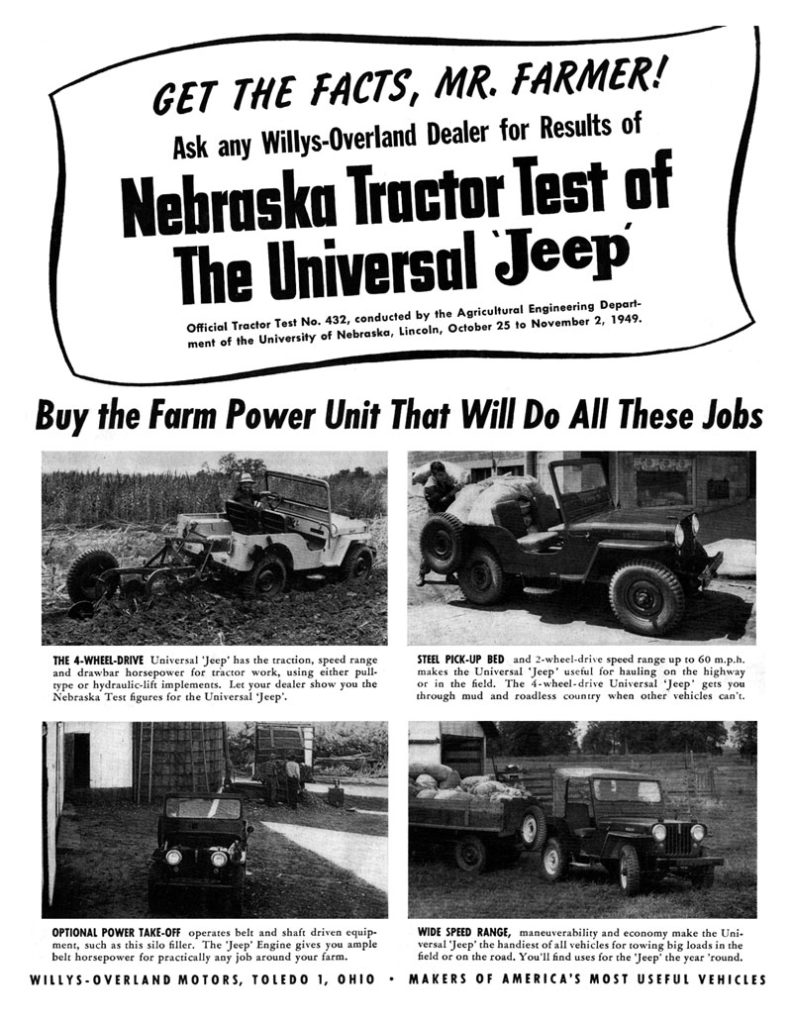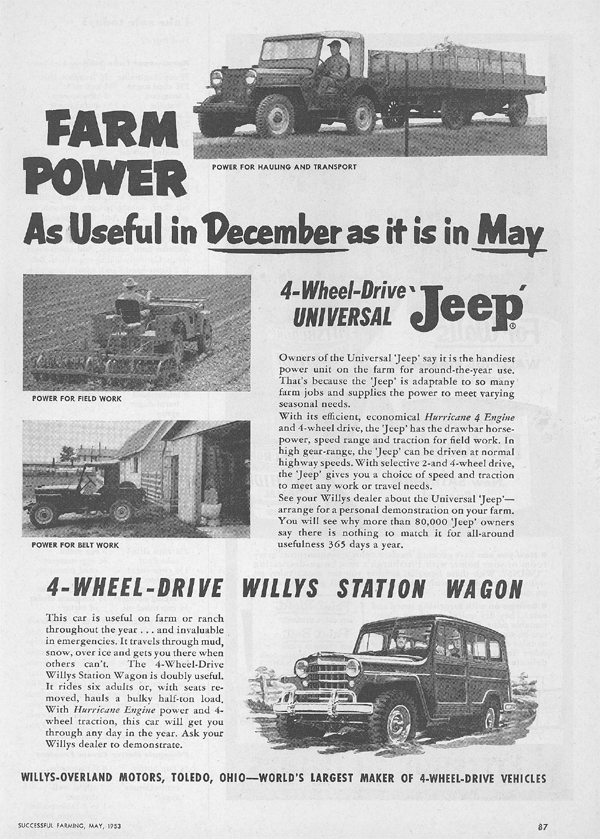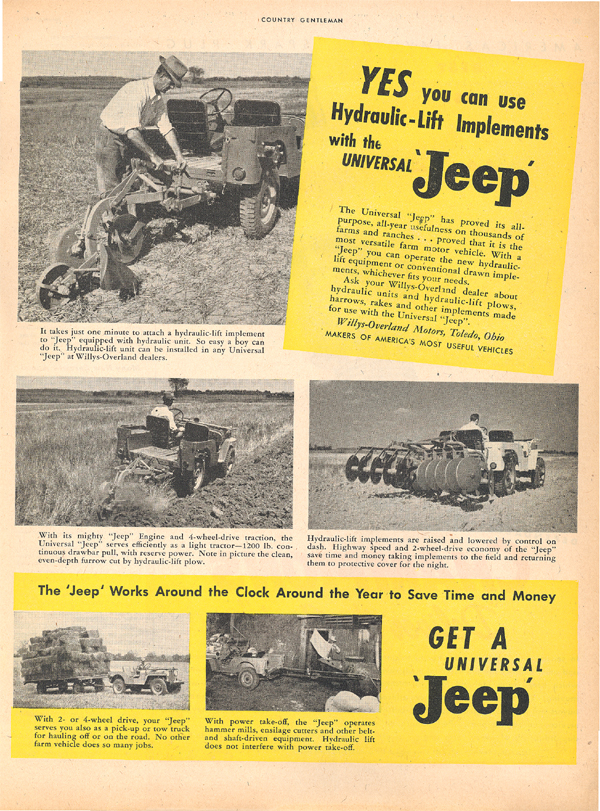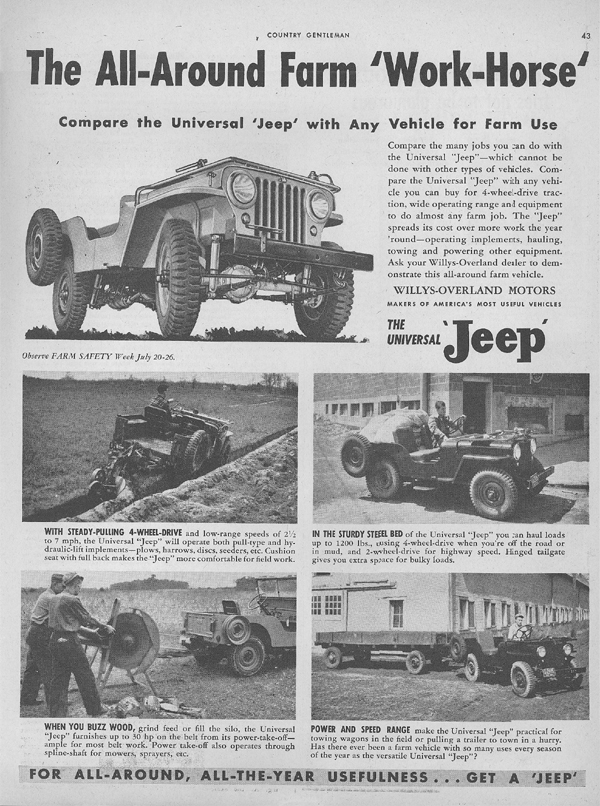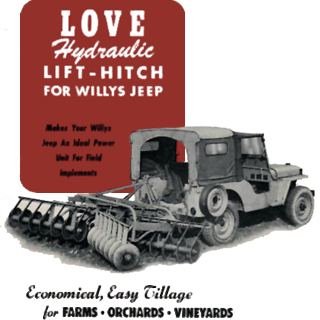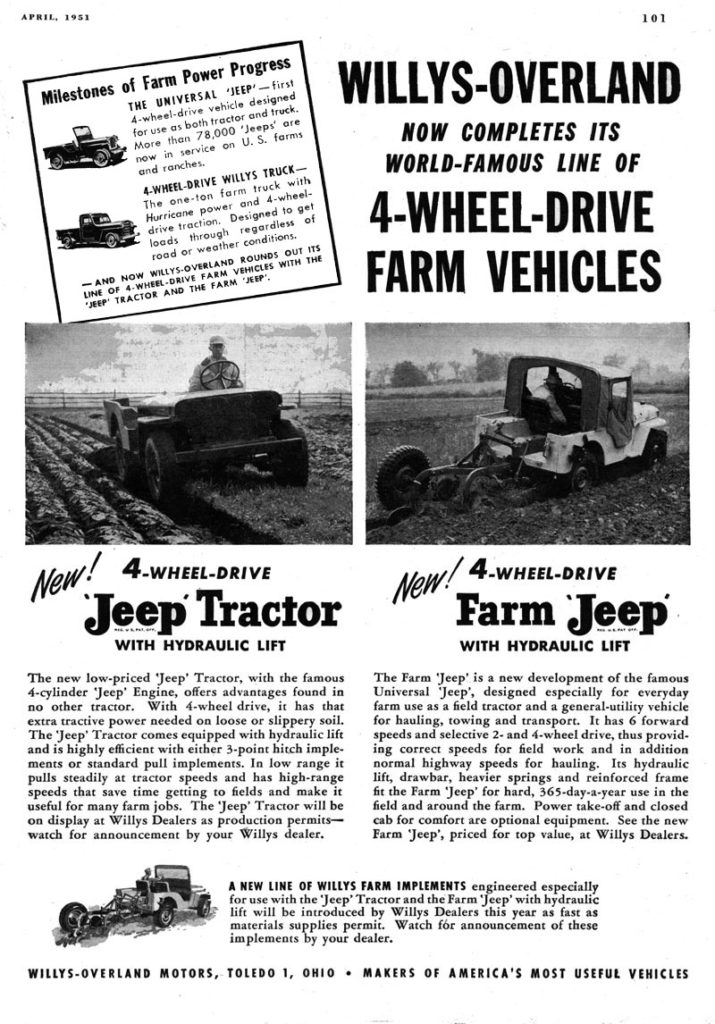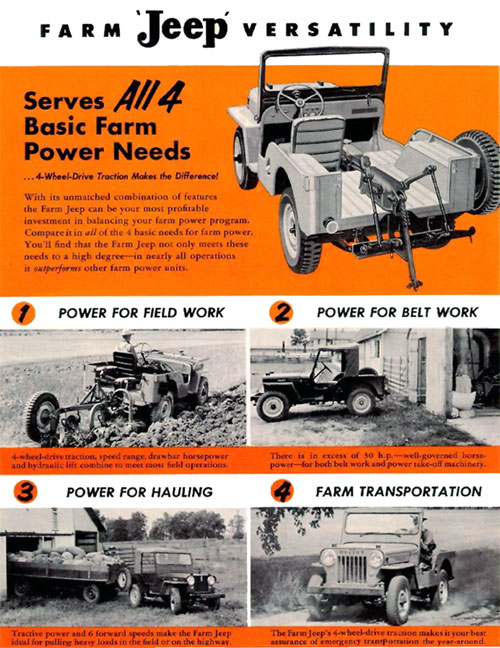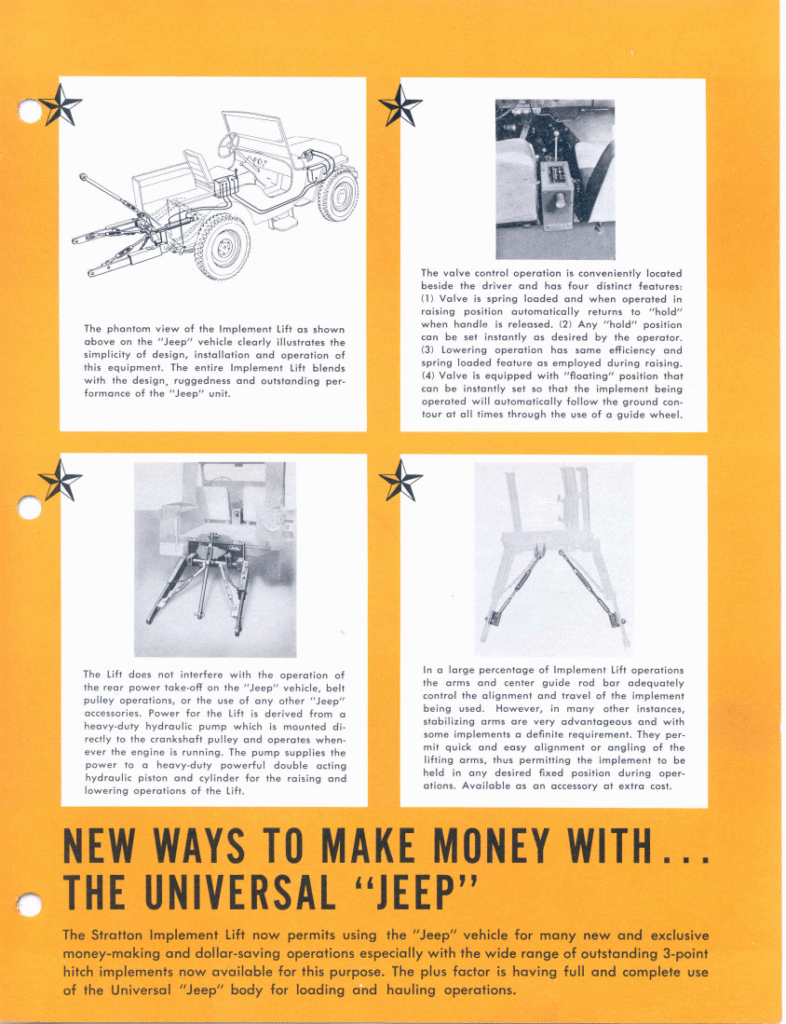 While Willys seems to have cut back on the amount of farm magazine advertising in the mid to late 1950s, examples do exist. This CJ5 ad appeared in the April 1956 Farm Journal.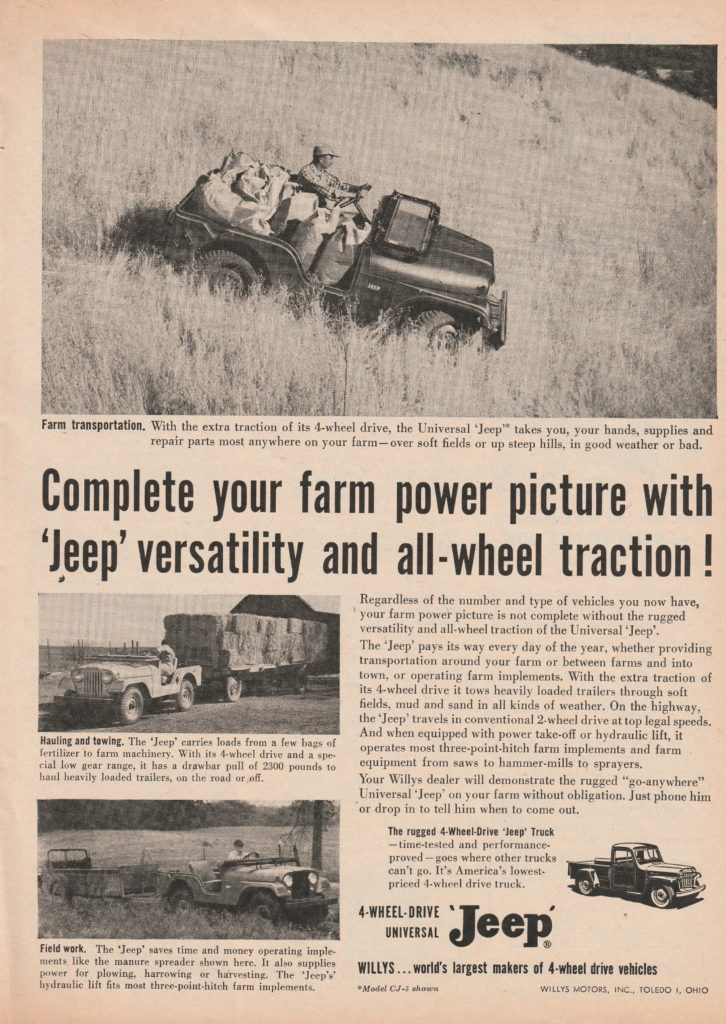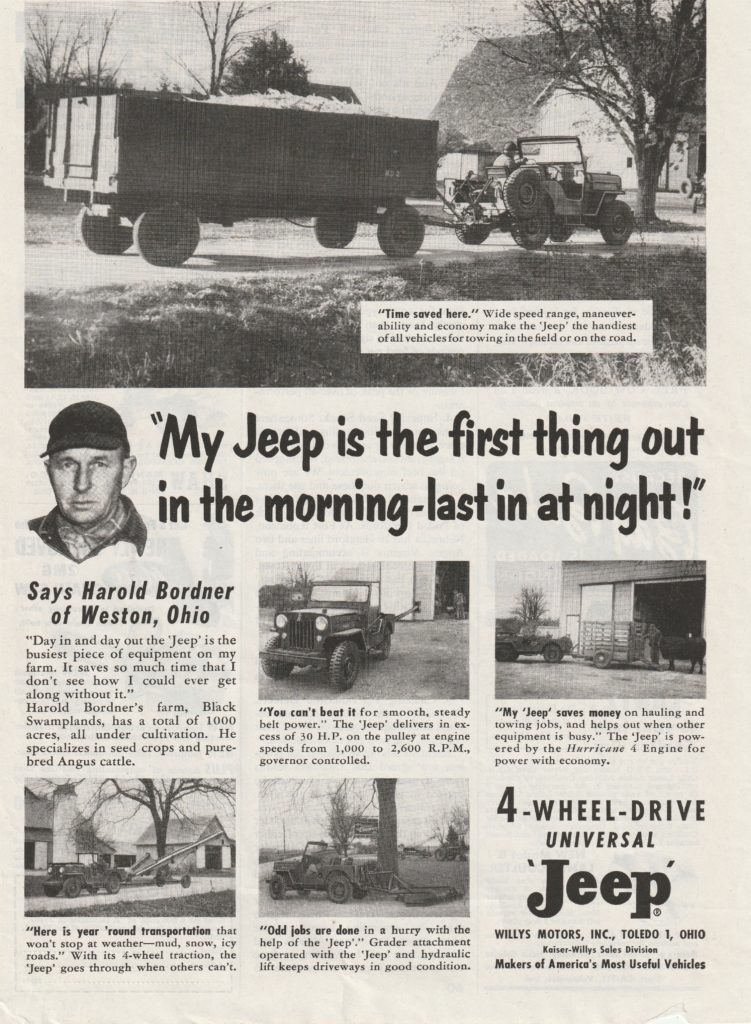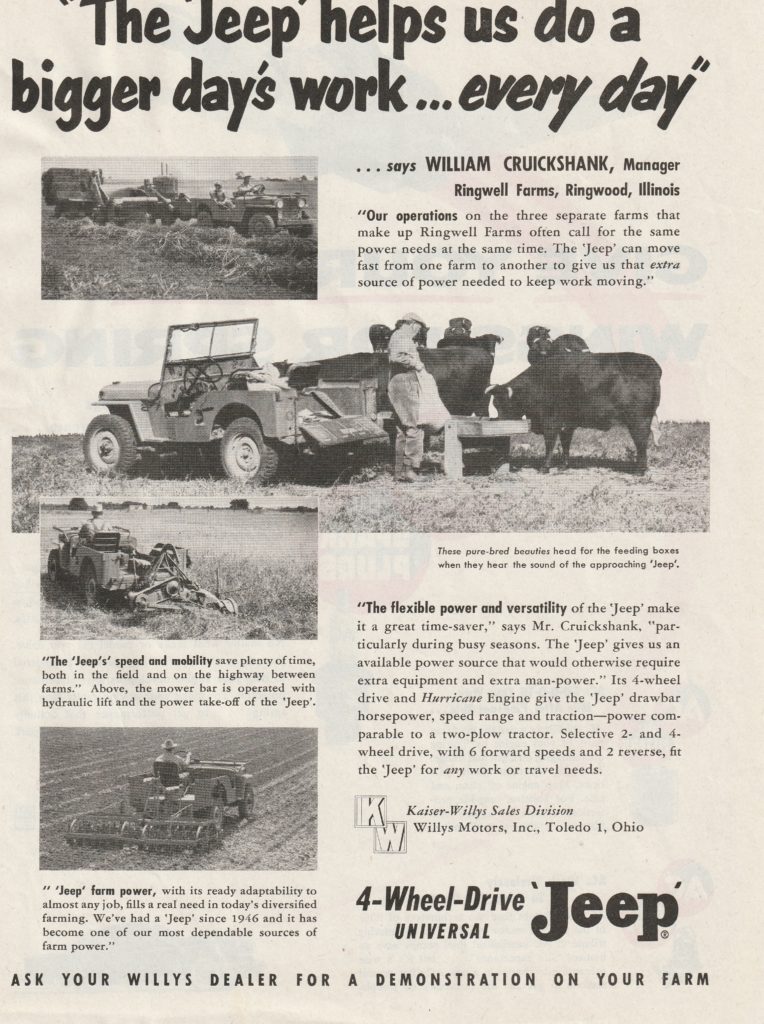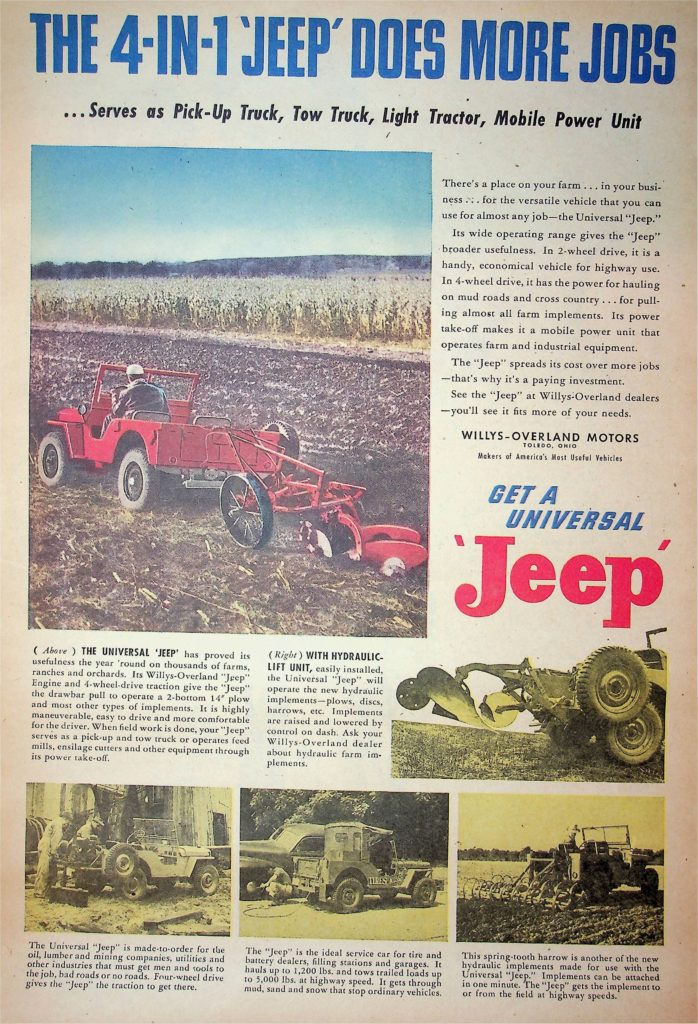 ---
The above ad appeared in the Sunday supplement American Weekly Magazine in several cities across the country on April 6, 1947. Note the picture in the lower righthand corner. It appears to be of a Farm-Aid lift. Click the ad to get the full story.
Newspaper Ads
Newspaper ads and ads disguised as articles were another important marketing tool. These ads and articles appeared in newspapers around the country.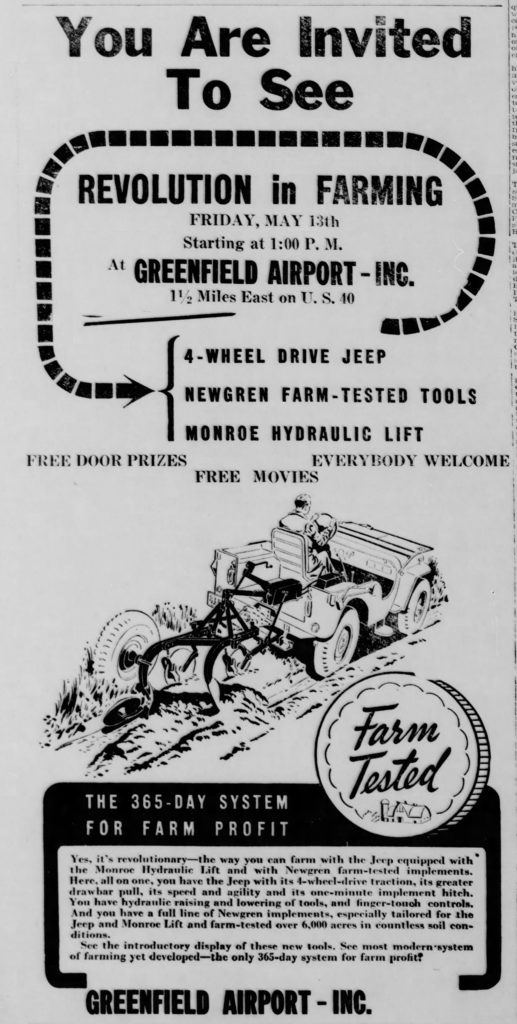 Signs
Dennis Rhoades sent us a picture of a sign and asked if we thought it original. We aren't experts, but original or not, it is a great piece of Farm Jeep history. Here is the original and what we think it might have looked like when new.