Originally posted 12/27/2010
Nothing is more exciting for a jeep lover than the prospect of a "barn find". There is something magical about finding an old jeep tucked away from the world and the elements in an old barn, waiting for a new life. We haven't had our own barn find, but have reported the news of other's experiences. But on a late summer day, the youngest Farm Jeep member had his.

The day was sunny and cool as we head out for a walk in the woods that was to end with a visit to the tractors in the barn. Grandma, Winnie, older sister Maddie (5 years) walk through the prairie grass, with Robbie (22 months) leading the way. Soon, Robbie is headed down the path that ends at the barn. Robbie knows that tractors live in the barn and both he and sister Maddie love to climb on board.

Robbie has visited the barn about every time he has visited the farm. But this time, something was different. As soon as he entered the barn, he spotted the jeep, tucked underneath a wagon in the far corner. From that moment, he was focused on getting it out into the sunlight so he could get a better look.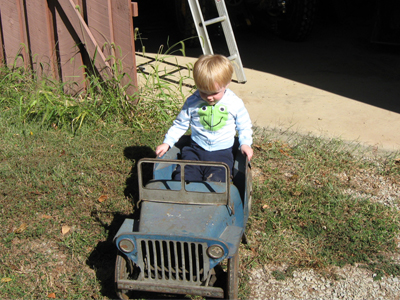 The reader might remember seeing a picture of sister Maddie in Part 17 washing this same jeep. It has been waiting in line for some restoration work, beginning with a new steering wheel and rod. Maddie was happy to play with the jeep just as it was, so Grandpa let it set unattended in the back of the garage. Some remodeling work there got the jeep moved to the barn, where it awaited Robbie's arrival.
Robbie wasn't leaving the jeep. So Dad and Grandpa hauled it to the garage, where Maddie helped Robbie clean the dust and dirt off with a good scrubbing. Meanwhile, Grandpa was searching for the reproduction steering wheel and the metal rod he needed to install it.
Robbie knew exactly what needed to be done with that steering wheel. Grandpa promised to make it a priority, so it would be ready for his next visit.
Evan and Barry may never get to experience that barn find. But they are happy to know that Robbie has and hope he has many more.