Love Hydraulic Lift-Hitch
UPDATE COMING – A recent discussion on the CJ2apage forum made us realize that we have for years used the term "Love lift" to mostly describe the "Love Hydraulic Lift System" that was introduced by Willys-Overland in the summer of 1946. We plan to correct this error and explore the differences in the two Love lifts. For now we have added Wade Rodger's pictures of his restored lift in a link below. Stay tuned.
---
Jeff Szucs sent Barry an email regarding the Love Tractor Co. hydraulic lift for Jeeps, we didn't have much (anything actually) to offer, but Jeff sure did…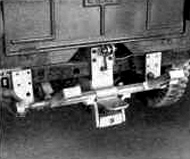 Like the Newgren and Stratton lifts, the Love lift mounts underneath the bed leaving both the bed and tailgate intact and available for use. As Jeff points out in his email "a magazine ad claiming that the Love lift was in fact the original lift used by Willys in its Farm Jeep tests in 1946 (don't know if this true, but Love Co. claimed it) and to show the working relationship with Willys a page from the Willys-Overland Equipment Book for the Love lift type and pull type harrow."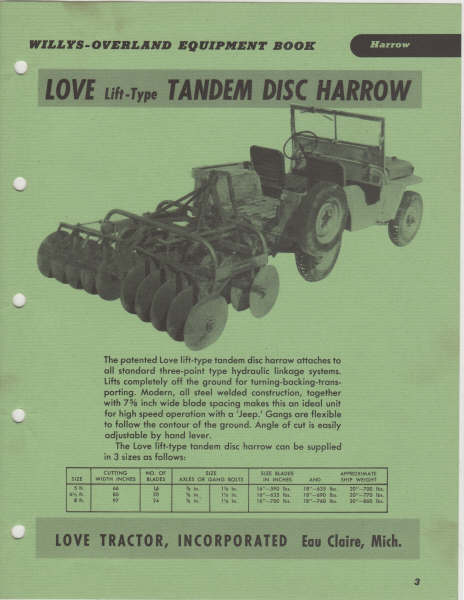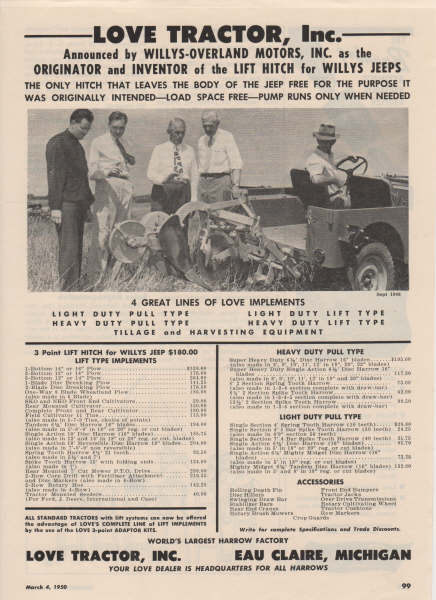 Much like the Newgren Co., information on the Love Tractor Co. is scarce, so if anyone knows anything about them drop Barry or Evan a note. Any FarmJeep.com readers in Eau Claire, MI?
Thanks to Jeff Szucs for all the information, the original pamphlet which shows the lift as well as installation instructions, and the original ad. Thanks again Jeff!
Wade Rogers has sent us pictures of his restored, but not yet mounted lift. We will use these when we compare them to the Love/Newgren design.
Bob Westerman over at www.cj3a.info (one of our favorite sites) has put together a comprehensive and very interesting history of the Love company. Check it out here. Thanks for all the good info Bob
Love lifts are rare. We are always excited to hear of any find.