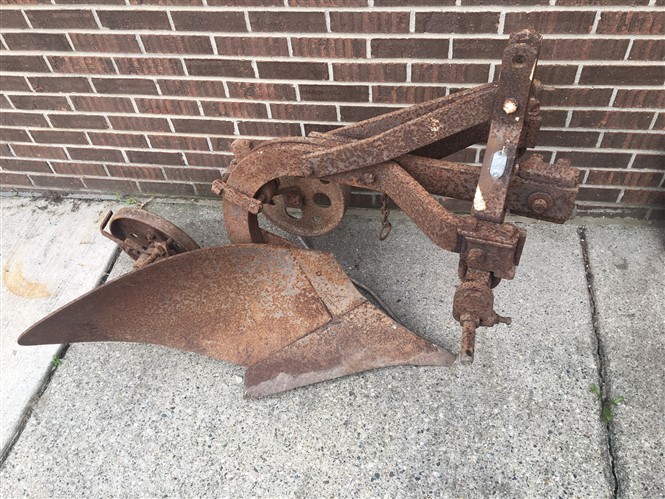 Bill Norris has a great Jeep story (https://www.farmjeep.com/bill-norris/). But as all Farm Jeep fans will understand, he needed a hydraulic lift to make the Jeep complete. While searching for a Newgren lift, why not search for a Newgren plow too? We told Bill that the search for a lift and a short-mast plow might be a long one. The production of the Newgren lifts was very limited, since they were manufactured for only a couple of years, and that the "short-mast" plows were also very rare.
So, it was a great surprise to us that after only a couple of weeks Bill said he had found a Newgren plow listed at a farm auction in northern Ohio. A week after that, he reported that he had won the plow at the auction for $100! We wrote back and said we hoped he had purchased a lottery ticket too. What a lucky find.
Bill wrote: "You're right I should have bought a ticket.
It was as I expected. All big Ford tractor stuff and then this oddball Newgren. (The auctioner) opened the bid at $100 and nobody said a thing. Dropped it to $50 and crickets. $25 and two guys started bidding. Got up to $100 and they backed off. After the auction they both asked me what I was going to do with it. A nice small garden or whatever. They both wanted to talk about their small tractors they were going to use it with. I said no it's originally for a Jeep and that I was going to restore it. Their eyes bugged out. I pulled up (farmjeep.com) to show them brochures. They both thought it was really cool and felt bad they bid against me! All good."
We asked Bill for his secret to a successful plow search. He said "Sorry, no secret, I just did a simple Google search and the auction popped up."
The Newgren WP-1L Plow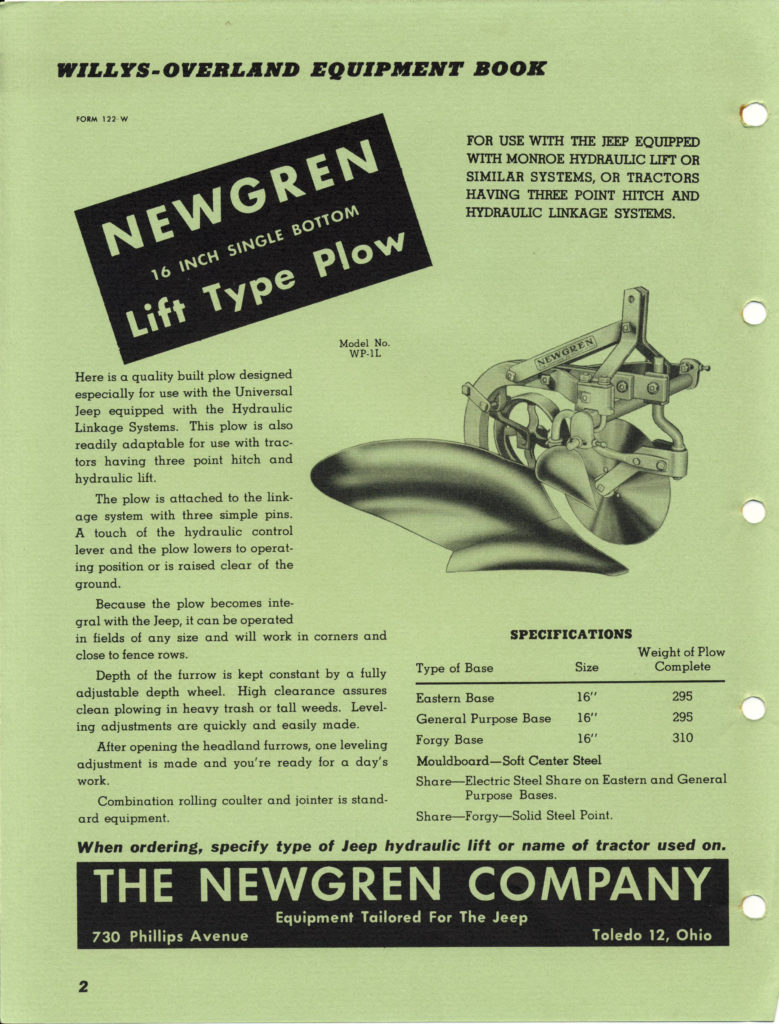 We have written about the Wiard plow before:
This page from the Willys-Overland Equipment shows both the old and new Newgren company. The plow is a model WP-1L (made by the Wiard Plow Company for Newgren) with the distinctive "short" mast, The mast is the structure at the top of the plow that is the third "point" of the 3-point lift. Both the Love and Newgren lifts required plows to have a short mast to maintain proper 3-point lift geometry. The design of these two lifts allowed for use of the tailgate and bed at the expense of some equipment performance. It is interesting to note that the Stratton lift produced in the early 1960s overcame this geometry problem, allowing, once again, for the use of the tailgate and bed space with the lift installed. The Monroe lift placed the lift in the bed and the top link (the point that attaches to the mast) location matched that of the Ford/Ferguson system. That system would become the standard for 3 point hitches in 1959 when the Ford patents expired.
The opening statement "FOR USE WITH THE JEEP EQUIPPED WITH MONROE HYDRAULIC LIFT OR SIMILAR SYSTEMS, OR TRACTORS HAVING 3 POINT HITCH AND HYDRAULIC LINKAGE SYSTEMS" provides some important information. First the Monroe lift has replaced the Newgren lift at this time, although we know the "similar systems" refers to the Newgren (or Love) lift. The fact that it will work on "tractors having 3 point hitch(s)" – that would only be Ford and Ferguson tractors – confirms Love, Newgren and Monroe had managed to make lifts that matched the Ford/Ferguson system without violating very strong patents. No other tractor manufacturer was able to accomplish that until the patents expired.
The line "When ordering, specify the type of Jeep hydraulic lift or name of tractor used on" would seem to imply that the plow could be configured with a "short" or "tall" mast. Newgren would shortly drop the Wiard made plow, replacing it with models that would continued to be sold until the early 1960s, For the Newgren plow collector, the fact that you could order the plow with different mast sizes makes plow hunting more interesting. As Newgren plow historian Clint Dixon says "So if you find an early Newgren with a tall mast, does that mean it is a Wiard that never got modified to make a Newgren, or a Newgren that got re-modified to become a Wiard again?"
Bill's Plow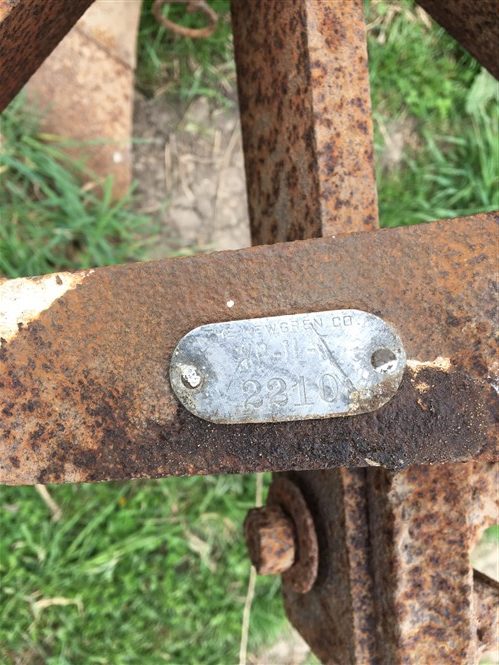 Bill's plow appears to be a model WP-1L-E, with the "E" indicating it is equipped with an "eastern base" per the description above. We need to ask our friend Clint to give us a lesson on plow base terminology.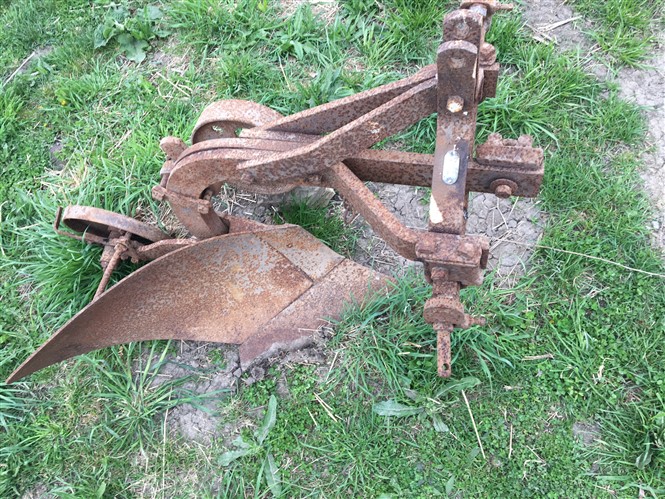 The "combination rolling coulter and jointer" is missing. This is very common on all makes of plows. Farmers found that the coulter didn't work as intended and simply removed them.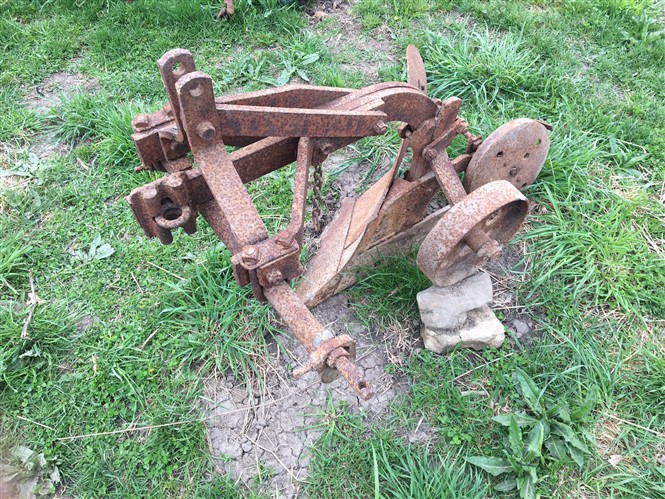 As can be seen in the picture above, the "U" bolt that holds the coulter assemble in place is still there. According to Clint, these units were common to a number of manufactures, so finding a replacement is possible.
Did the magic rub off?
Shortly after receiving Bill's notes, we heard from a gentleman in Georgia that he had found a Newgren plow in a barn he was cleaning out. We are working on obtaining this gem, but at a price that far exceeds what Bill paid and with more missing parts.
Still, it feels like magic to see these allusive plows popping up in the springtime.