To us, two things made any model post World War II Jeep a Farm Jeep. The first was of course, a hydraulic implement lift, be it a Love, Newgren, Monroe or a Stratton. The second, and really the most important item was the rear PTO. It was, along with the governor and front weight, what made the little Jeep a real farm tractor. While we have always focused on the glamorous implement lifts, it was the humble PTO that marked the beginning and the end of the Farm Jeep era.
In the beginning
From the introduction of the CJ2a until some time around 1970 (we will be exploring this date), the rear PTO was available as a factory installed option. The PTO, attached to rear of the transmission, enabled the Jeep to perform as tractor and mobile power unit. Being driven by the transmission gave the Farm Jeep an advantage over other ordinary tractors – it had 3 forward speeds and power reverse. A major advantage when using an implement like a post hole digger.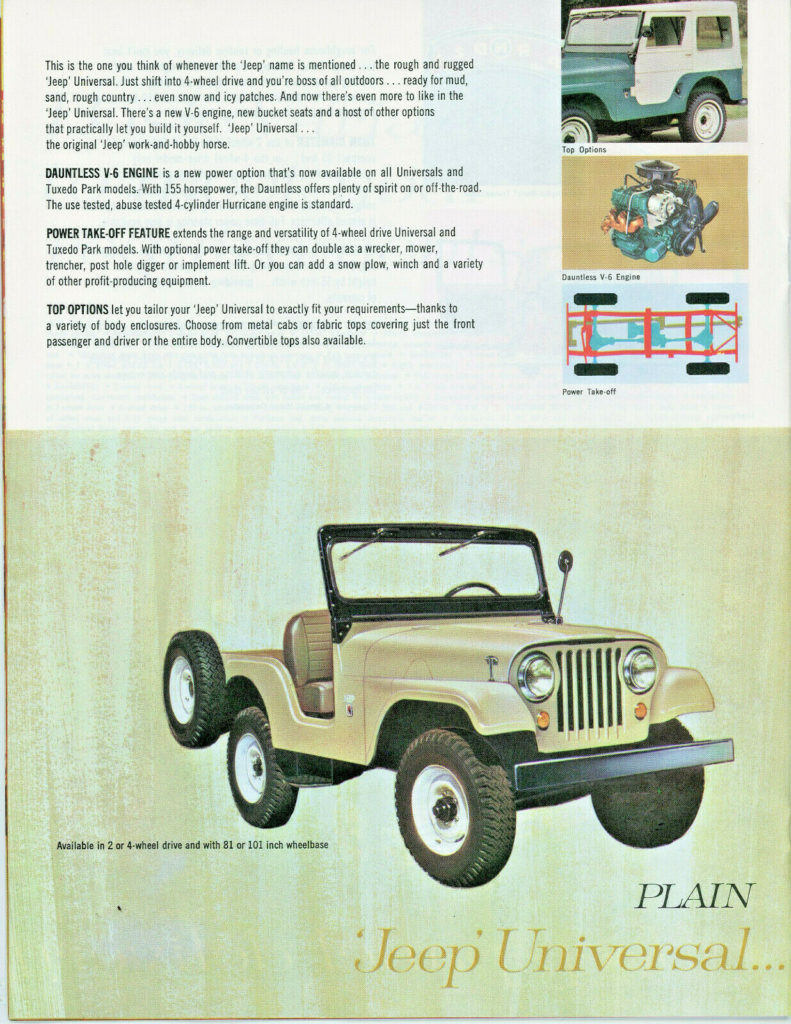 So what happened?
As late as 1966 – twenty years after the CJ2a, the front and rear PTO was still an important option. Two items should be noted. First the Jeep has at least two versions – the fancy Tuxedo Park model and the "Plain" Jeep Universal. Second, although the "Power Take-Off Feature" mentions "implement lift", the word "farm" doesn't appear in the description. Plain or fancy, no farm work here.
Just 4 years later, in 1970, the rear (but not the front) PTO seems to have disappeared. The 1970 brochure ( available here) , most likely produced in 1969, shows the same graphic as above, but no rear PTO.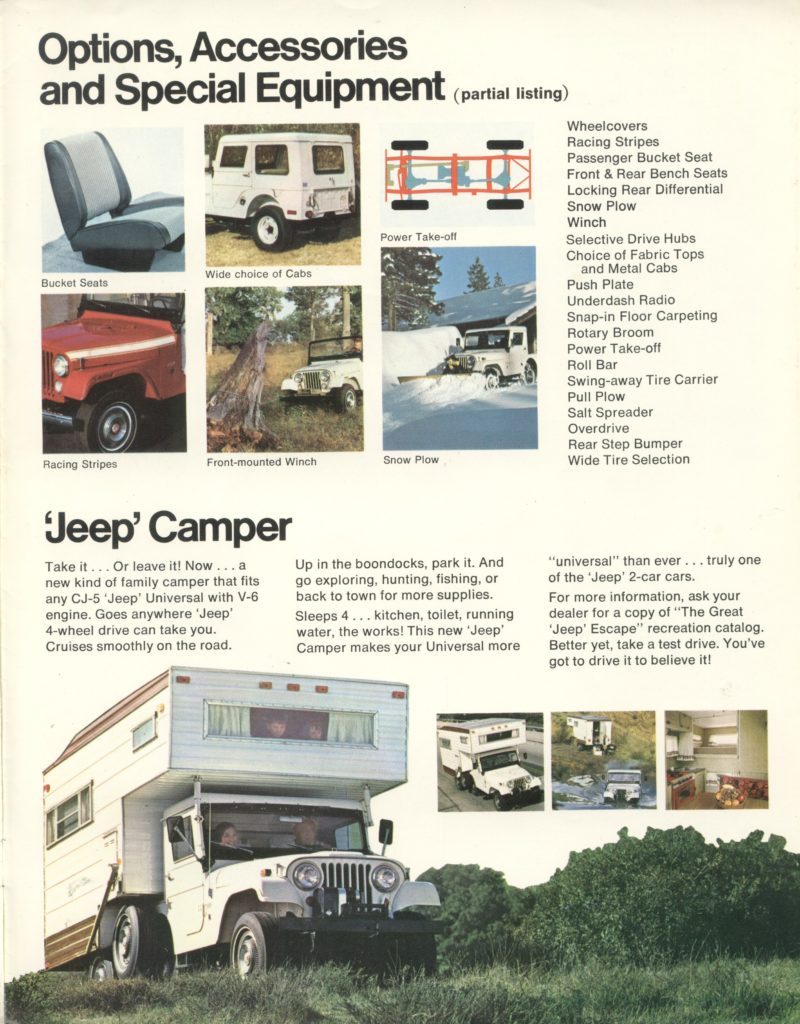 1970 was a pivotal year for the Jeep. Kaiser Jeep sold the company to American Motors (AMC). Jeeps in the brochure have the under-the-seat gas tank, but the photos were most likely taken before the production change, moving the tank under the bed. While the front PTO was still possible there was no room for the rear PTO or the Stratton lift with the tank in the rear. That ended the Farm Jeep era.
More questions
We want to know more, such as when did the factory stop taking orders for the rear PTO. We are reaching out to PTO pros and hope to update this page in the future.
---
Thanks to Dave @ ewillys.com and tomasinator from the EarlyCJ5. com forum for providing the brochures.