We received the following email from Allan Knepper –
First and foremost…….thanks to both of you for making this old Willys Jeep stuff fun……especially the agricultural stuff. I have a 1953 CJ3B. As with a lot of things, having the first one leads to all sorts of behaviors. Mine is pretty original. I bought it on ebay in 2013. It began it's life in Oregon and was later on a Nature Conservancy ranch in Wyoming.
I have since bought a variety of basket case Jeeps and assorted parts. I have gotten rid of most stuff over the last several years and really gotten to meet so great people in the process.
I had a front and rear axle assembly and some seat frames that a guy wanted. I asked about what he had for a Jeep. He told me the story and said it had a PTO system because "it was one of those farm Jeep things". After more conversation, I asked if he had any more "farm" stuff. He said he thought he had some sort of "lift thing" in the junk pile somewhere ! Anyway, in a week or so he sent me pictures of what looked like lift parts in a snow pile. I told him that he should look for more stuff, and I would make him an offer on it or take it in trade on the parts he was buying. I said, throw them in your truck when you come for the stuff you agreed to buy.
Yesterday, we got together, and I ended up taking some lift parts in trade for the stuff I was selling. Apparently this Jeep was sold brand new as a farm Jeep. The current owner is the third owner and has the original sales brochures from the selling dealer !
I looked and looked on your website and I am still struggling to identify what I have. Also……he said he was sure there was a hydraulic cylinder with two hoses on it, but he has not been able to find it. I also tried to describe a governor, pump and any other parts of a hydraulic system, but so far no luck.
Attached are some pictures that I took. I really need someone to make me smart !…….HELP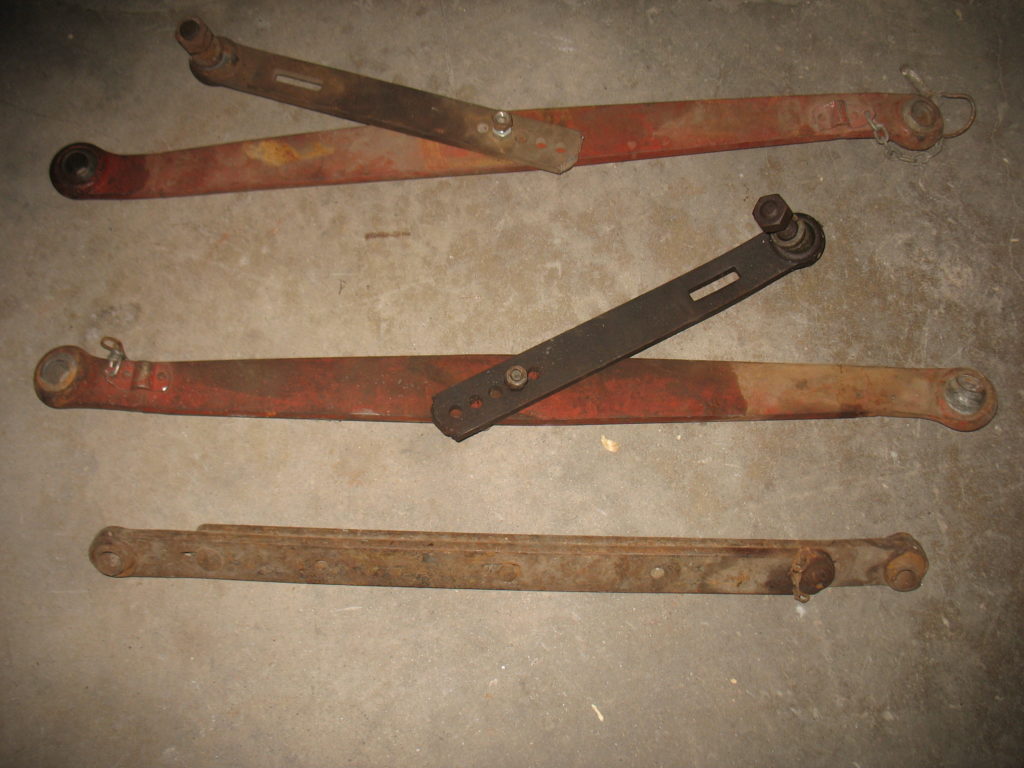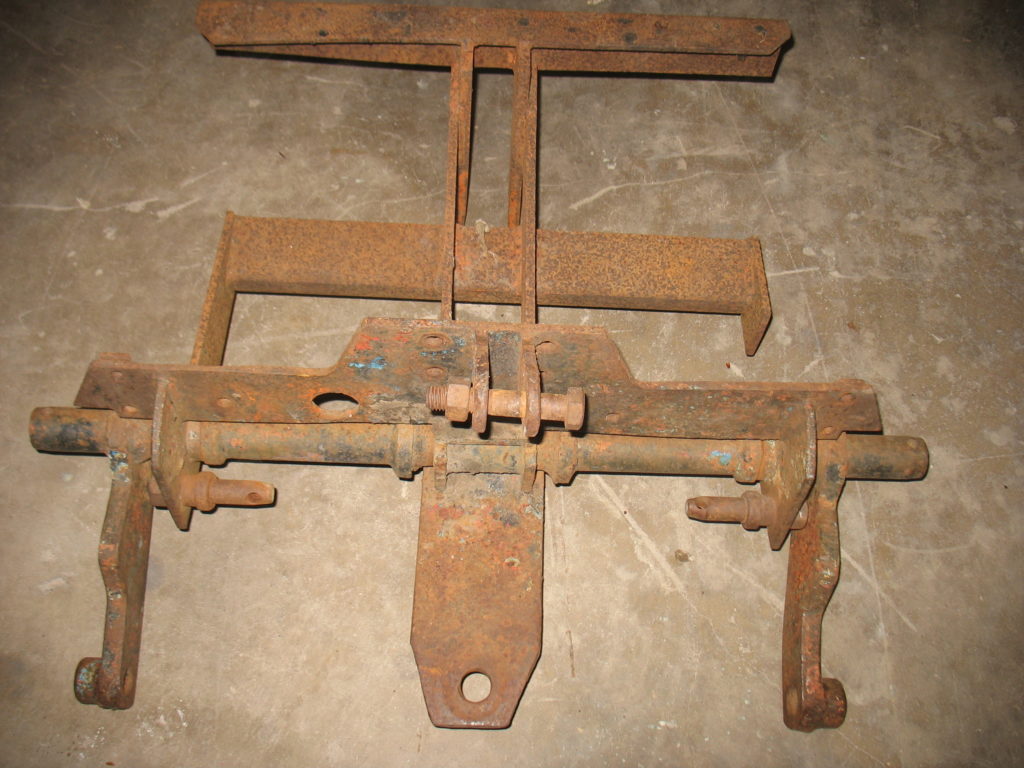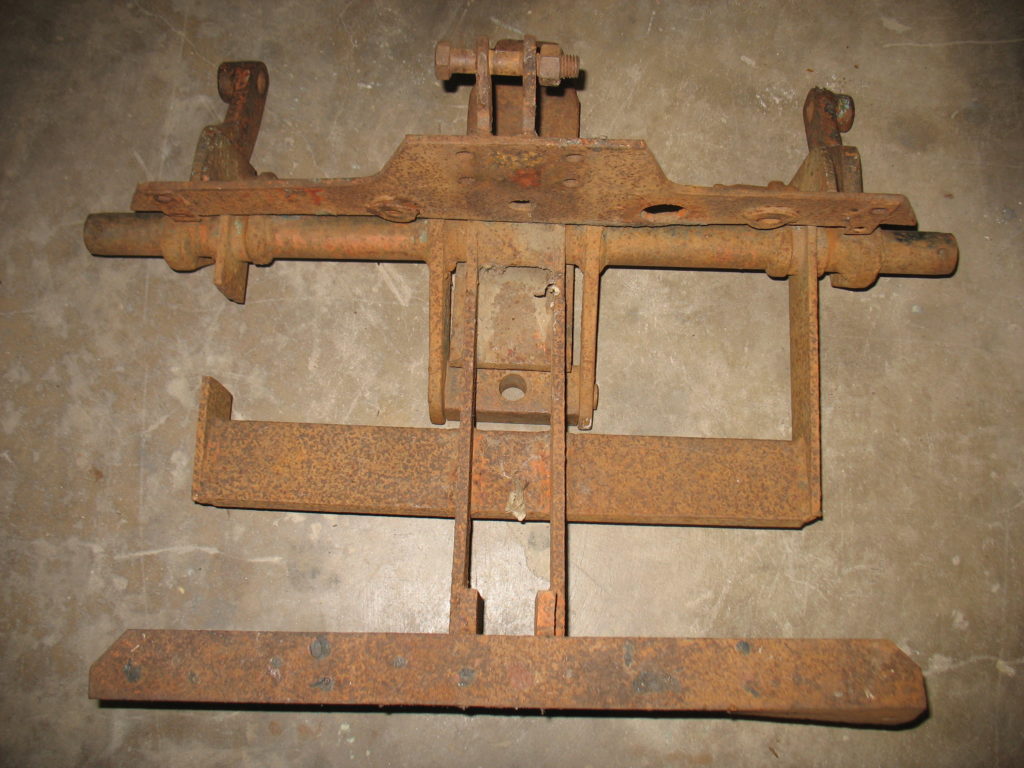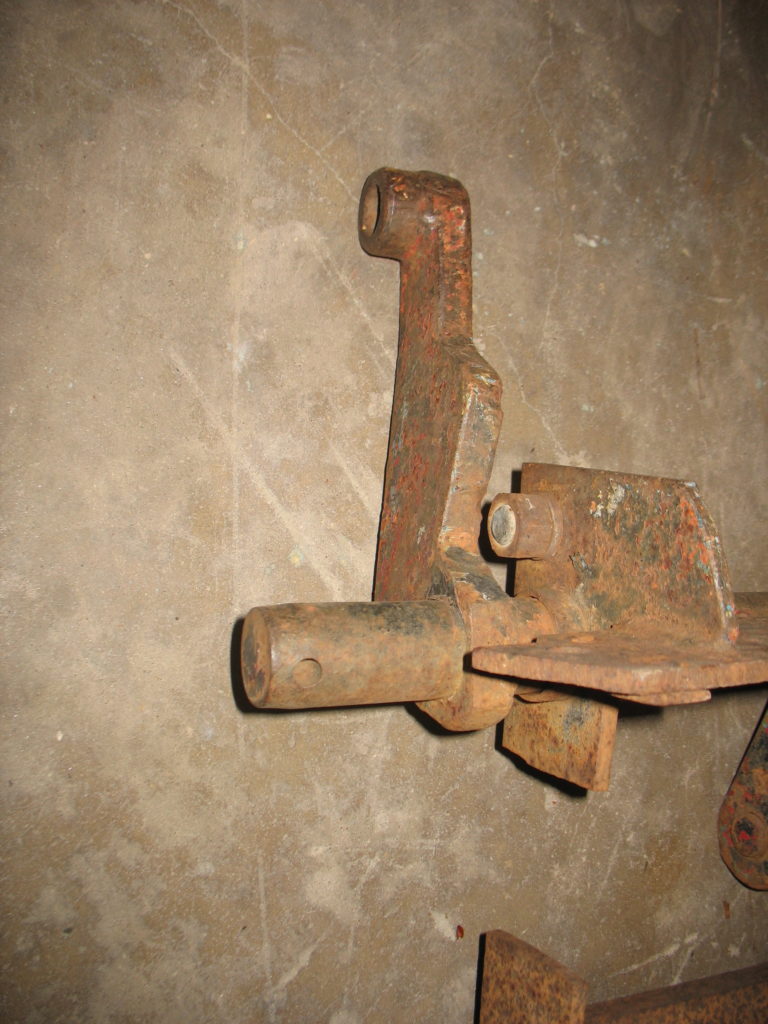 ---
Barry wrote back –
Allan
Thanks for sharing the story. My first thought is that it is a slightly modified early Love/Newgren frame. The implement arms and top link are from a Ford 9N. The lift to implement arms link has me stumped. The links appear to be machined. I would like to see a picture of the attached arms. This is a very professional-looking modification. If you get the arm mounted, take some measurements of the spread, to see how much movement you have for mounting the implement.
I hope we can dig a little deeper.
Barry
---
Allan wrote:

Thanks for your quick and informative reply. Yes…..when the owner first sent me a picture of all this stuff, I thought the lift arms looked a lot like a Ford 8N type (damn sorry now that I told my brother to go ahead several years ago and sell the Ferguson 2 bottom plow still sitting at mom's place !. I had made it work behind my Case 530 tractor to re-do some dirt before seeding grass on some empty lots).
I will get some measurements and maybe just put everything in my pickup and bring back to Wisconsin from my storage building in Iowa. That way it will be right here for any questions.
The guy I got everything from is a truck/heavy equipment mechanic. I had already asked him to please….please look for the cylinder…..controls…..governor ?……pump etc. before he made the trip. When he was here, I actually showed him a Farmall governor on my shelf that I maybe will try to put on my CJ3B when I install my PTO. I also showed him the governor on my Empire tractor. When we were looking at he literature he had, we both looked at a picture of a belt driven pump. I also told him that it could be something on the front of the crank. When I copy his brochures and send his originals back, I am going to send some pump pictures or anything else I can find.
---
And, as promised, Allan sent lots more pictures: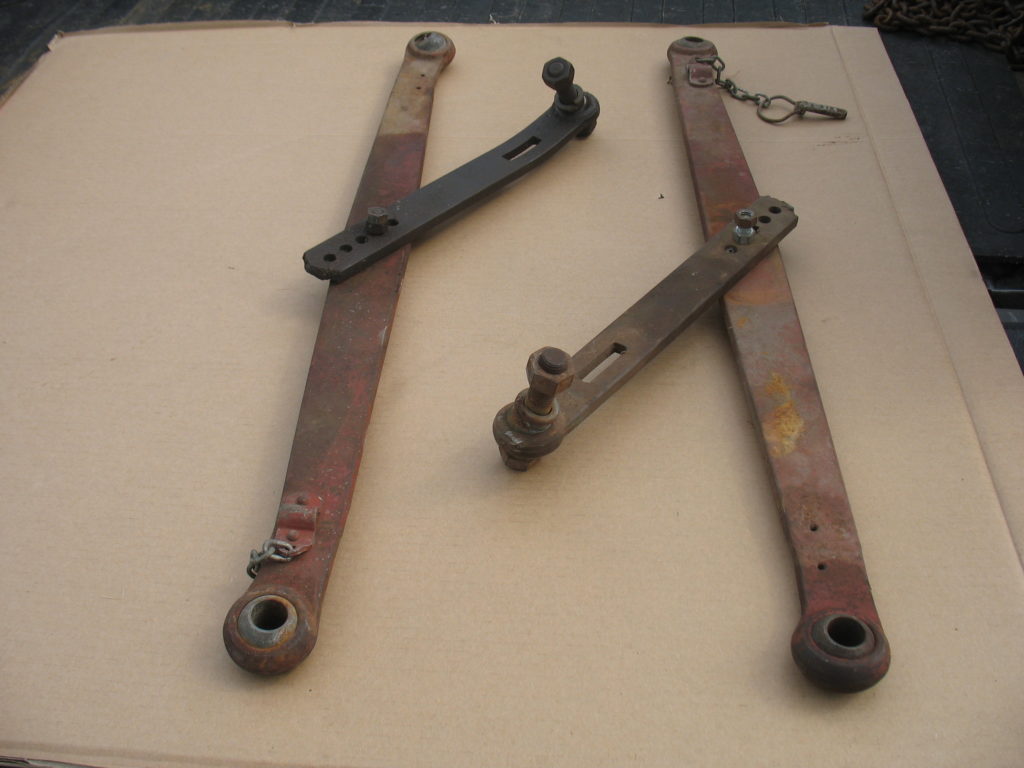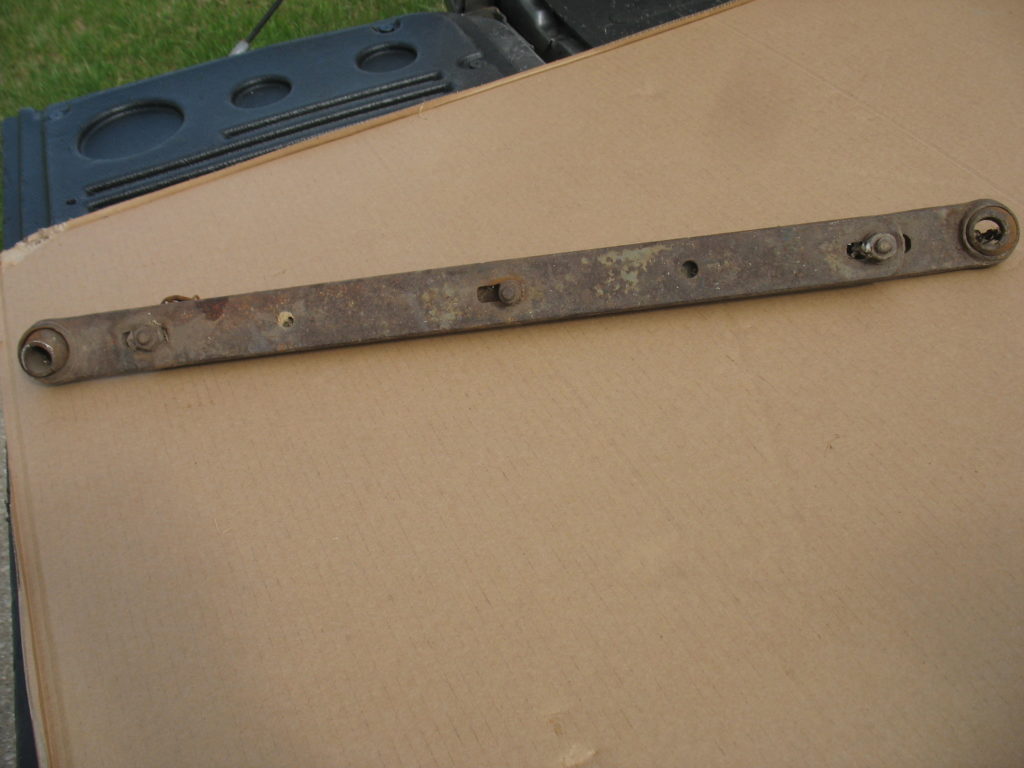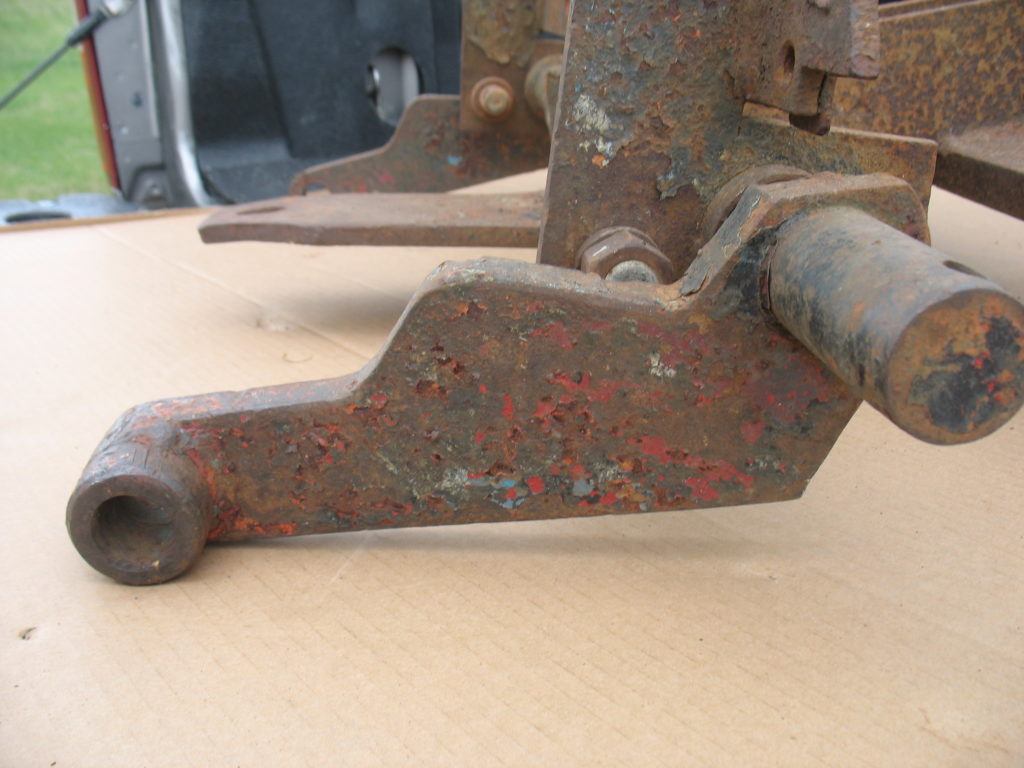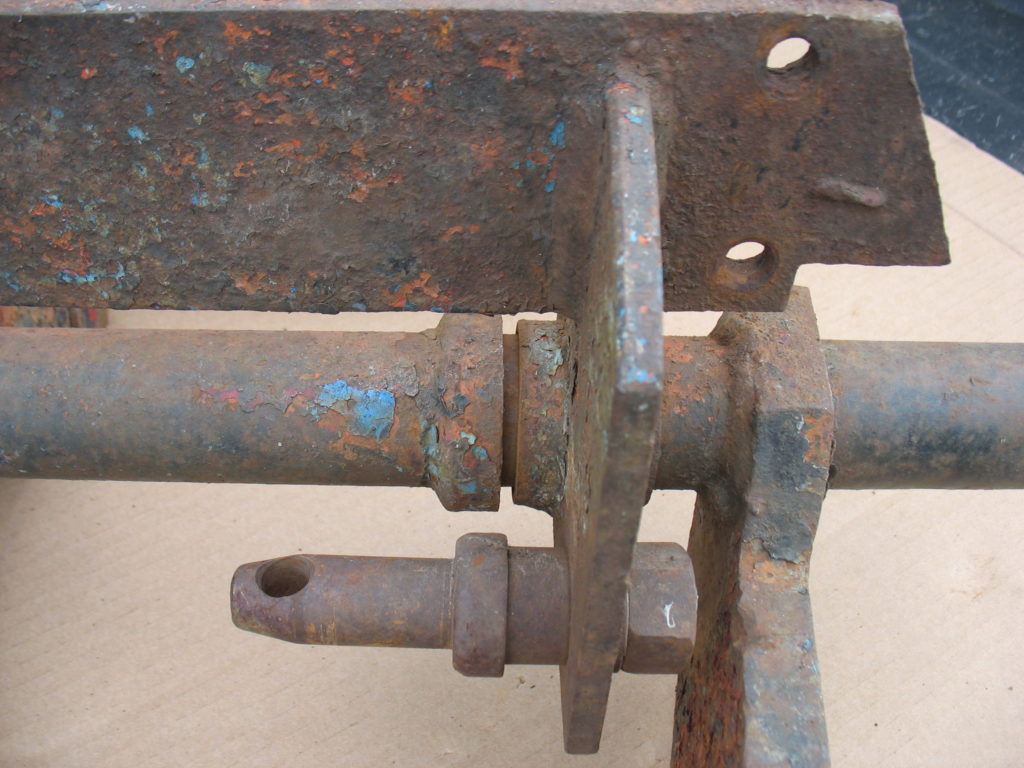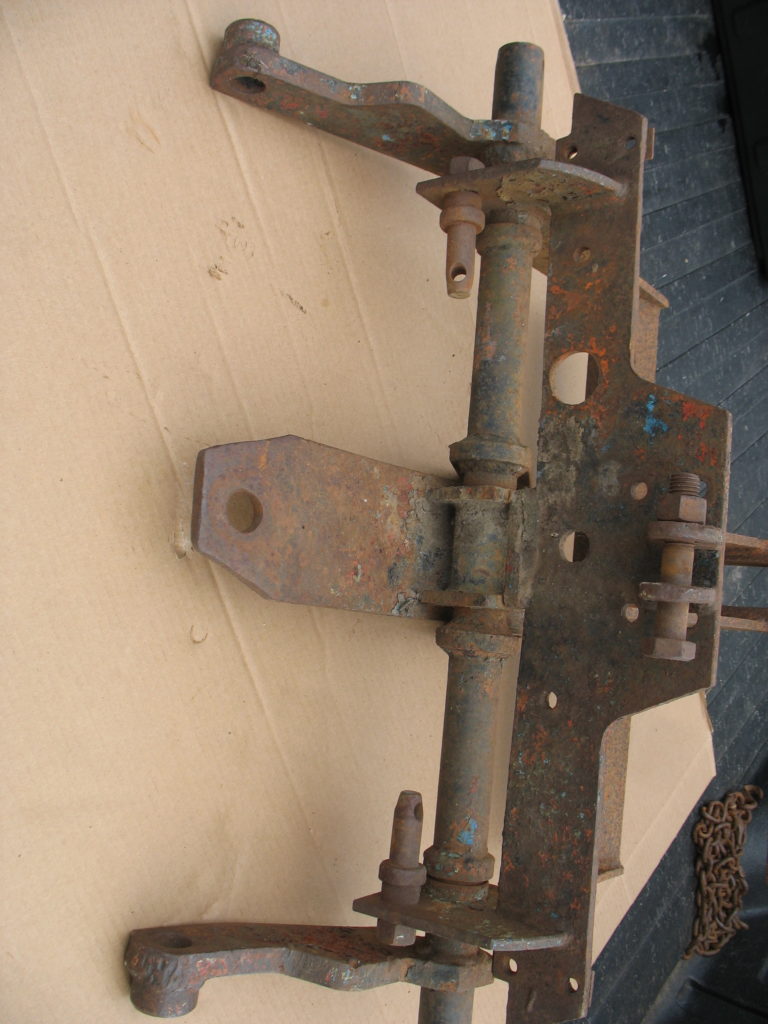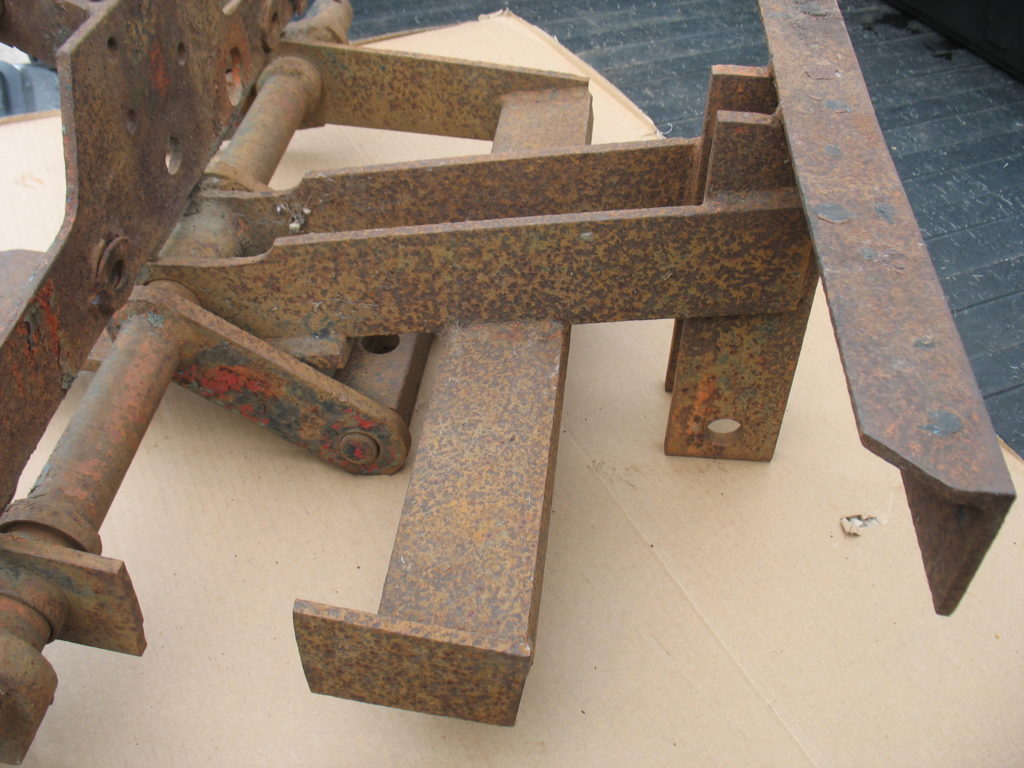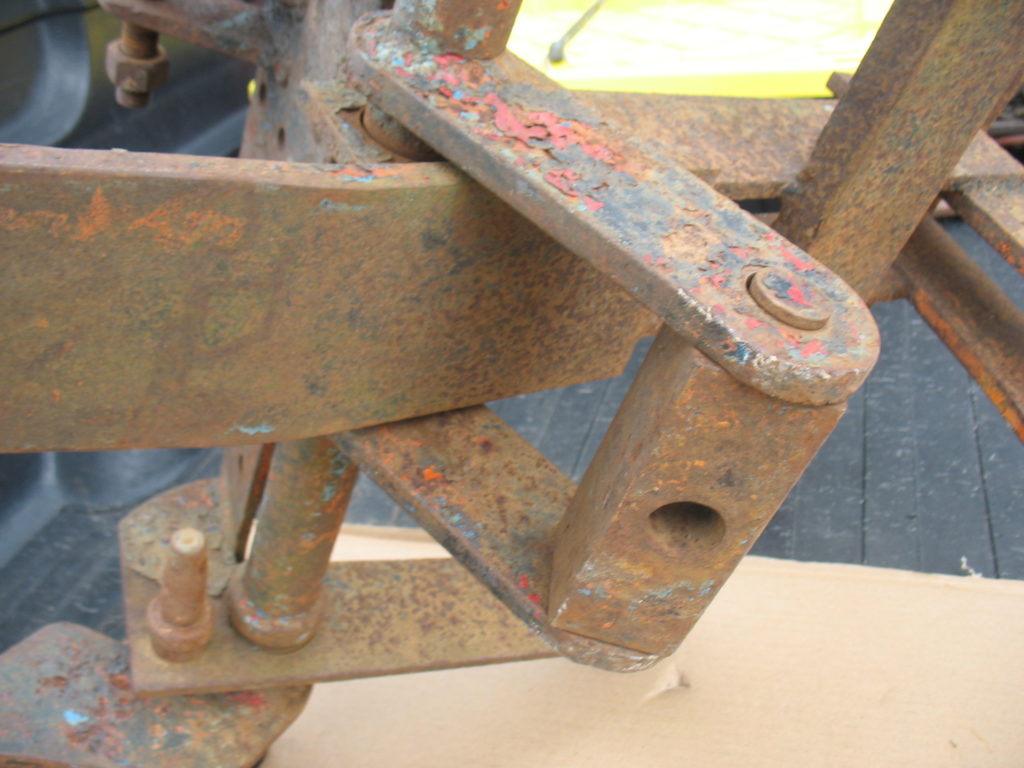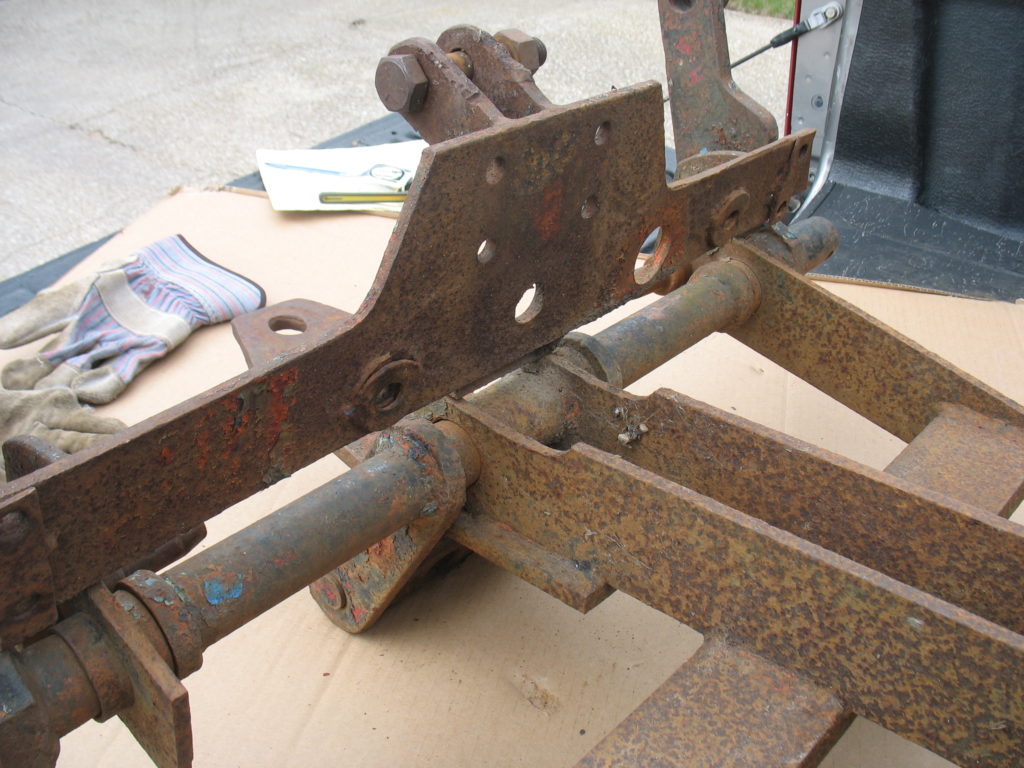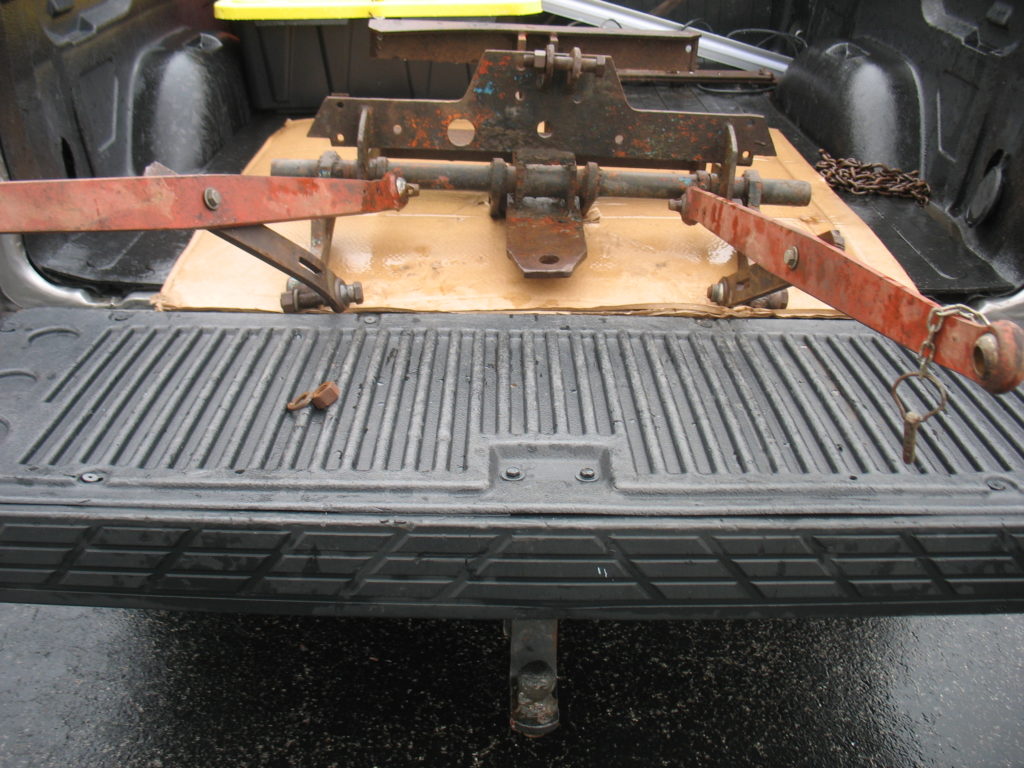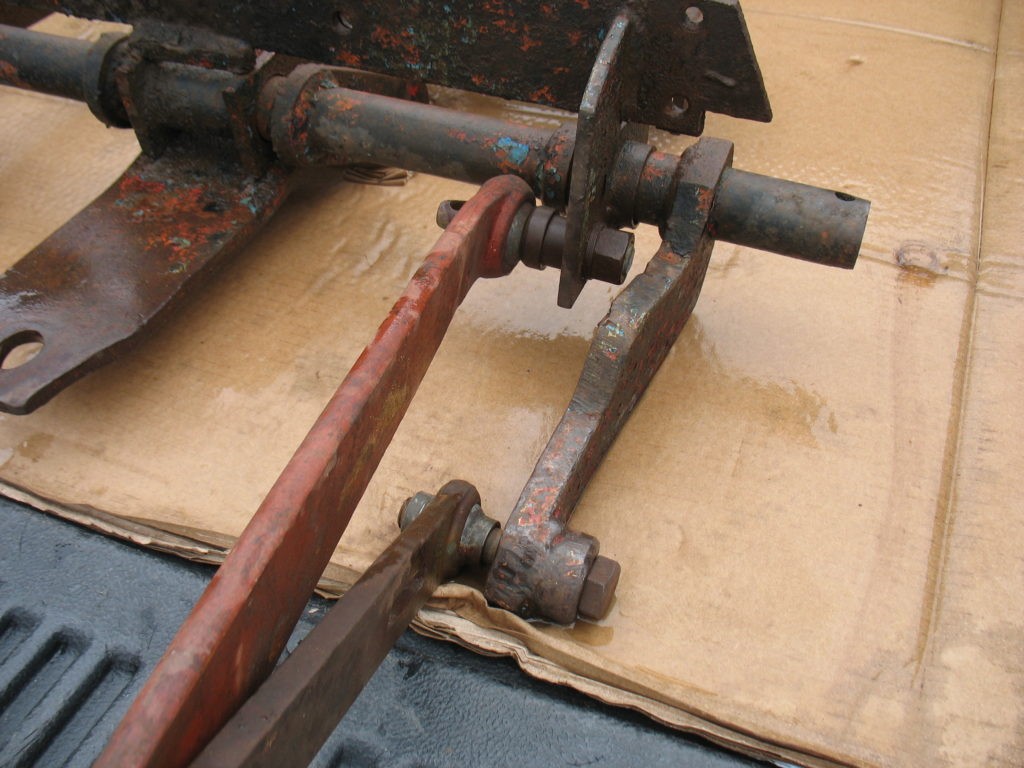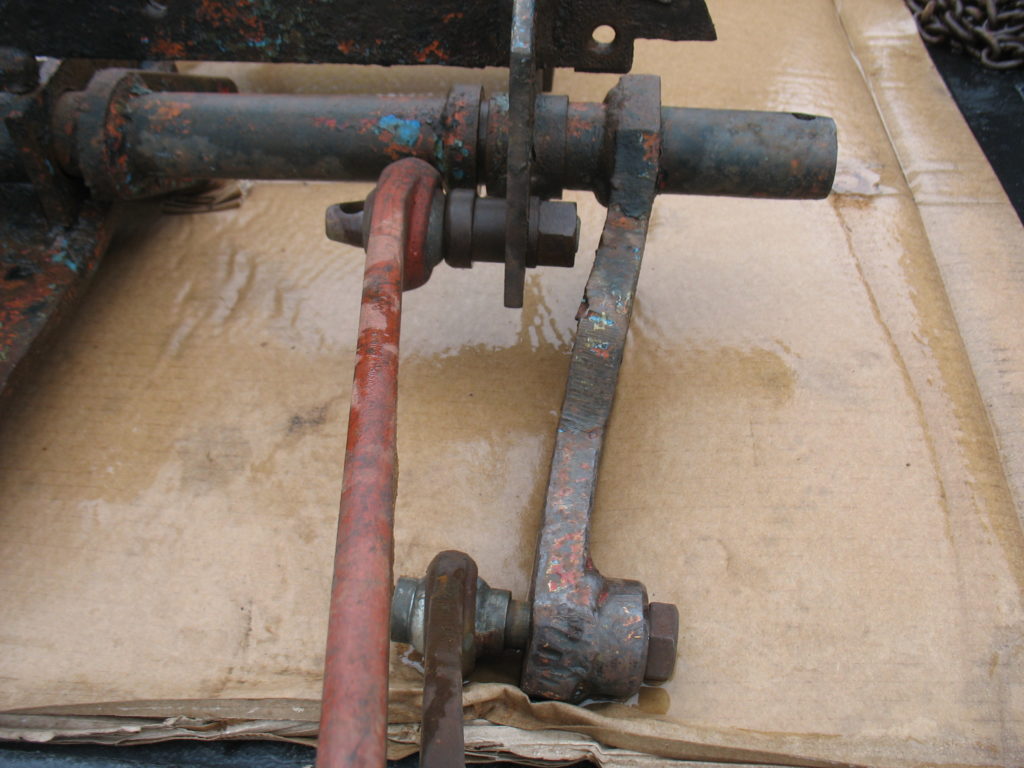 ---
Barry,
Some measurements:
Long 3pt arms are 32in. center of eye to center of eye
Top link is 26 1/2in center of eye to center of eye
The two shorter black lift arms appear to be shortened from something else. You can see torch marks from rounded cuts on the end. Interestingly enough, the eye ends have some casting numbers on them:13840…….GD 4813840…….GD 50
Each of the shorter arms also has casting numbers 181352/ 56MI in a second set of markings.
Both the short black arms are 1 3/4in wide and 7/16in thick.
Once again, the long arms certainly look 9n 8n 2n style……they still have some faded red paint on them.
---
Observations:
Based on the measurements, I am positive that these are 9N/2N/8N arms. These arms are still available at farm storms today. I believe, as Allan does, that the lift to implement arms are made from some other off-the-shelf item. I like that the tilt adjustment is accomplished by multiple holes. Love/Newgren used a large screw/nut to accomplish this.
Since there is no sign of a serial number plate and no reservoir, I am also positive that this was an early Love lift as sold by Newgren. There are other small features that also indicate that is from an early lift.
I particularly like these simple modifications because it gets rid of my major complaint about the Newgren lift. The Newgren's implement lift arms lack the swivel balls, making implement mounting much more difficult.
We certainly hope that Allan will install the lift on his 3B. We plan on staying in contact to see if we can assist in making that happen.
---