For the past several years, we had been hearing about a show in Martinsville, IN, just about an hour's drive away. We even received a personal invitation from the club's president while attending another show. For a variety of reasons, we hadn't been able to attend the event until this year. We are happy we did.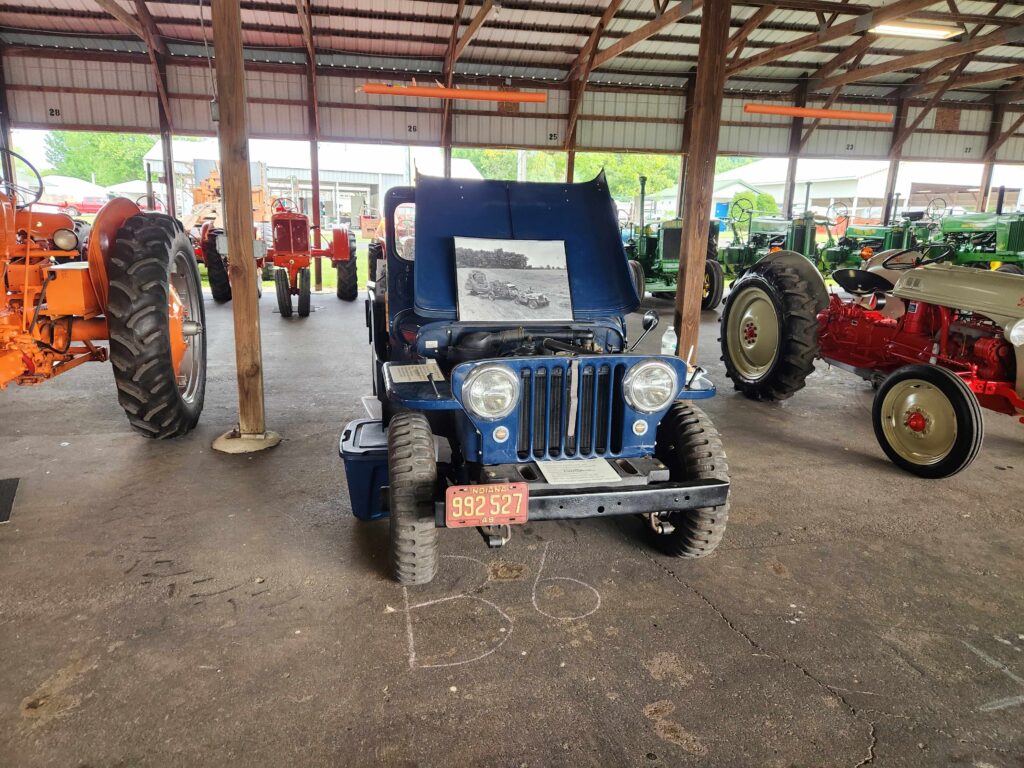 The show is held at the local fairgrounds and tractors (and one Jeep) are displayed in a large pole barn. It normally takes us 90 minutes or so to set up our display. That includes erecting a couple of canopies to protect us from the elements. We were ready to go in under 30 minutes! Tear-down was equally quick and it made for a pleasant beginning and end to the event.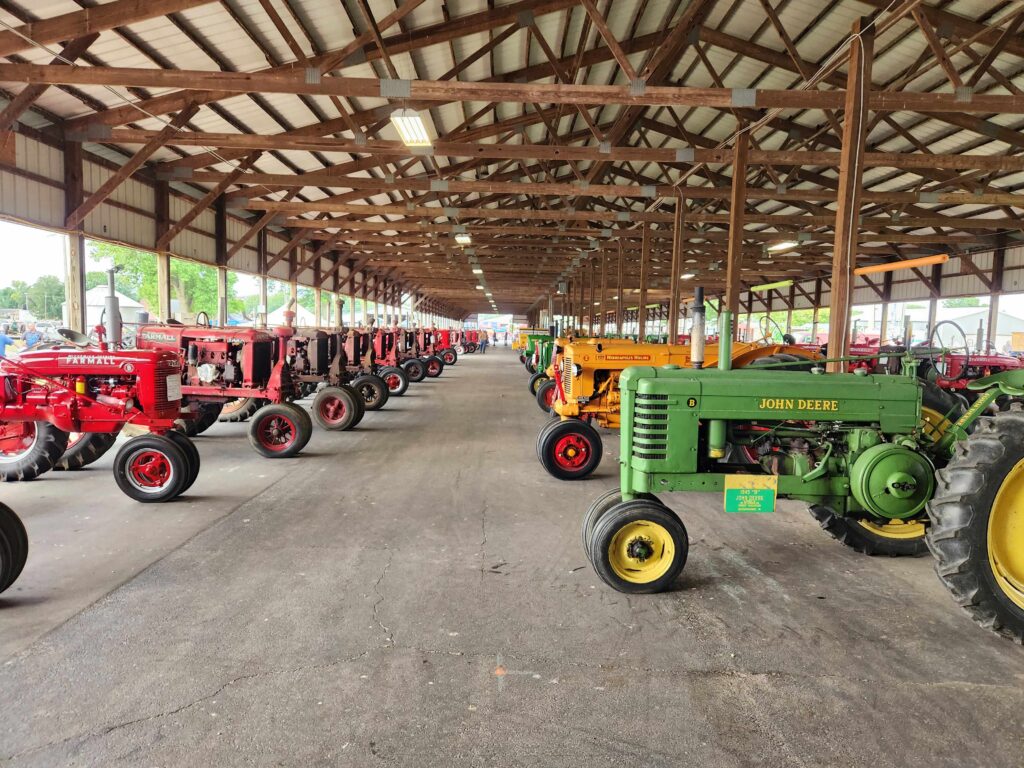 Although we didn't make a count or hear an announcement, most people guessed that a couple of hundred tractors were on display inside and outside the large barn. In addition to farm machinery, the weekend event includes a classic car show, 5K runs, swap meets, flea markets, and tethered hot air balloon rides. There were lots of food vendors too, along with free popcorn!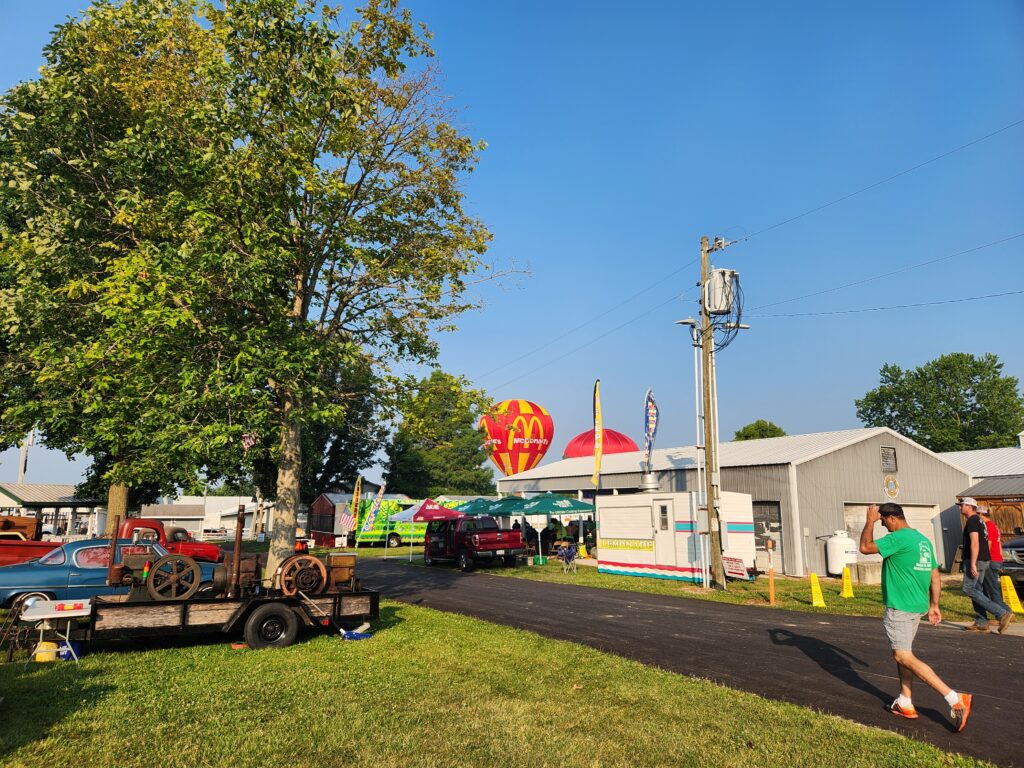 While we didn't pick our location (there were only two indoor spots available when arrived), it turned out to be ideal As can be seen in the first photo, we were parked next to a Ford 8N tractor. The Farm Jeep's main competitor in the early years was the Ford N series. It was handy to be able to compare the size and capabilites of the two vehicles as we talked to visitors.
And boy, did we draw a lot of visitors. The car show on Saturday, those just coming for the flea market and the 5K runners (all events are free and no parking fee) made for a number of non-traditional visitors. Mamy entered the barn on their way to or from other events; their first priority wasn't seeing tractors (or a Jeep). It all made for fun interactions.
Making hay
We once again heard stories of Jeeps making hay. A gentleman, who as a boy, witnessed the amazing pulling power of the little Jeep. He said it took place on a farm near Muncie, IN that had "mucky" fields. The Jeep setup was similar to the picture below. Towing a baler and a full haywagon, the driver dropped the wagon off at the back of the field with the idea that a tractor would pull the wagon to the barn. Unfortunately, the tractor (model unknown) couldn't gain traction in the "mucky" ground and finally gave up. The Jeep driver re-attached the heavy wagon and easily pulled it to solid ground. A Mighty Jeep indeed!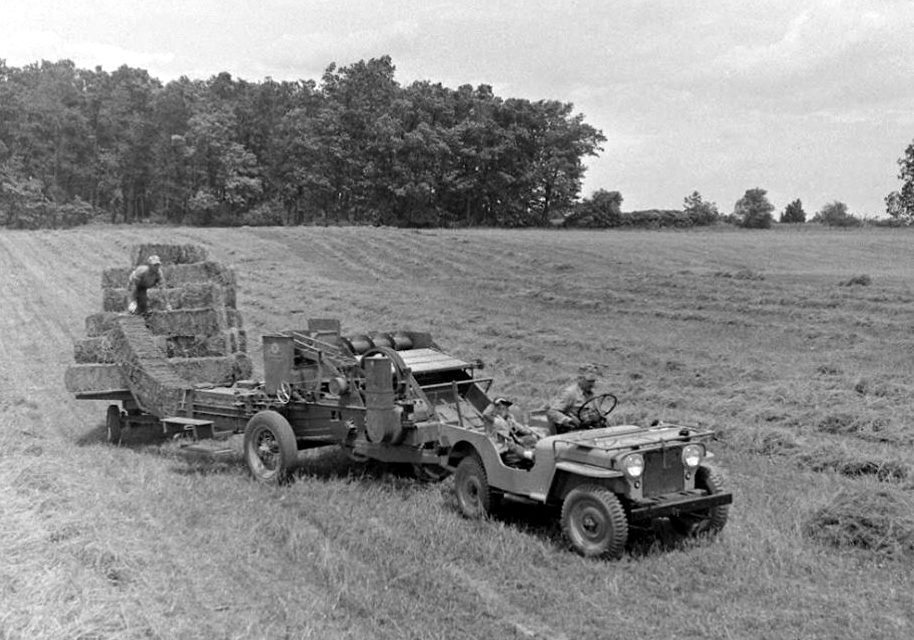 Then there was the gentleman, who only stopping for a minute warned "Never hook a Jeep to a string baler, it will kill the transmission." I said I had not heard that and he replied "Oh yes, we hooked up a brand new Jeep and broke the transmission after one day. We hooked the baler up to a tractor the next day and killed the tractor too." He was off. I never learned what this killer baler was.
Mystery tractor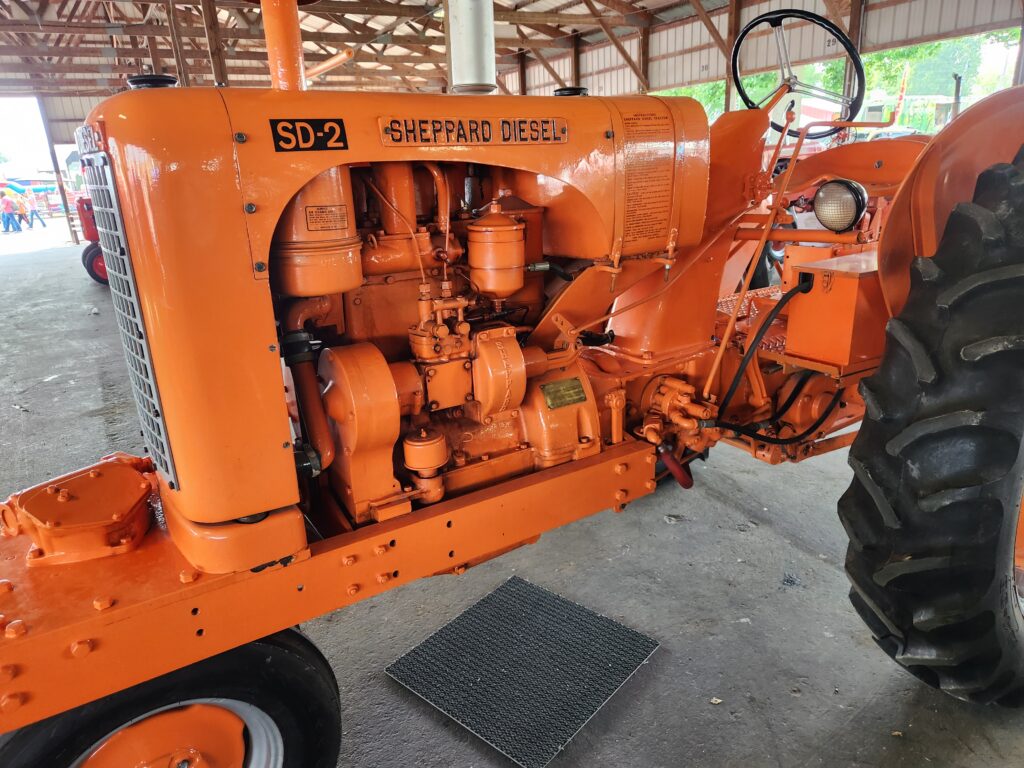 Parked next to us was this beautifully restored Sheppard Diesel. Unfortunately, the owner never made an appearance and there was no information provided with the tractor. We have written before about people displaying tractors without providing the story behind them. Not having seen a Sheppard tractor before (and we have been to LOTS of tractor shows), we were even more curious. While talking to a visitor, Barry remarked that is was too bad that the owner wasn't around. The visitor agreed, but was also able to provide some history about the tractor. Returning home, we found a good article on the tractor's history here.
Car show
We try to stay close to the Jeep, so we don't miss visitors and the stories they bring. Barry did make a quick pass through with his friend John Burgoon, who had stopped by for a visit. John, got this picture of a beautifully restored Jeepster.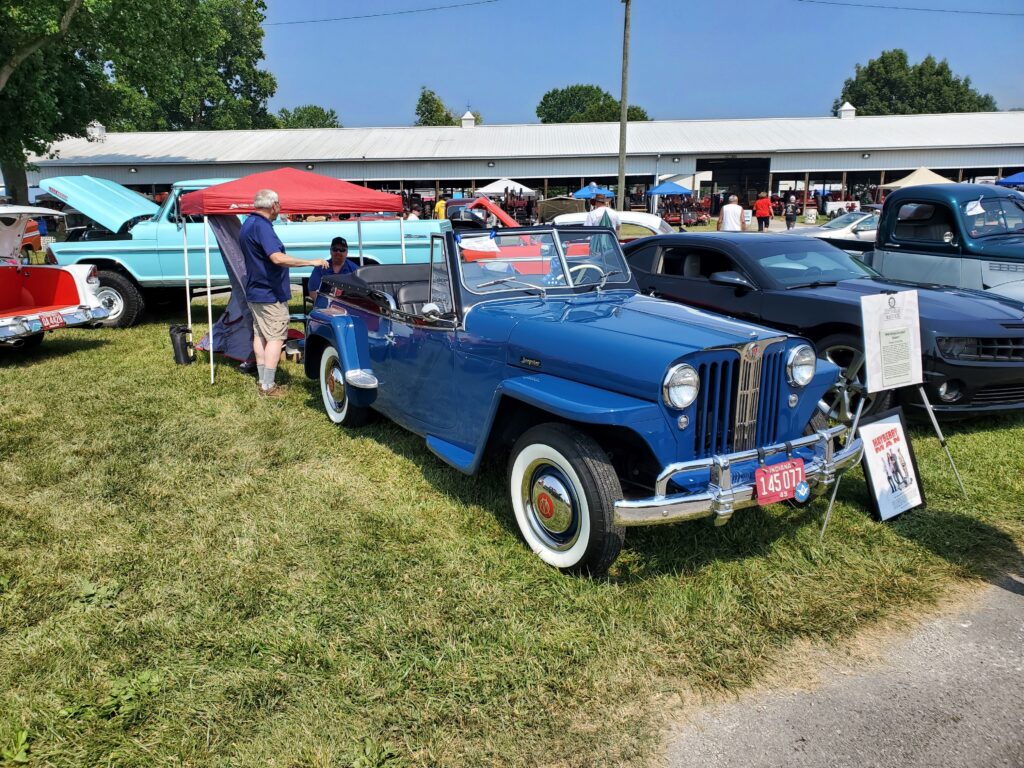 There was a CJ2a with an early body (tool indents) and a 3a windshield and a postal Jeep that had been painted Army green. Fun for everyone.
A car shown participant dropped by to discuss his Jeep projects. The discussion led to using 3-D printing in the making of reproduction parts. Robert J. works in the 3-D design and printing business and gave us a good overview of the process. We are now working with Luke Schemmel to gather more information on how to make use of these modern processes to restore Newgren and Monroe lifts. Thanks to Robert for stopping by and educating us.
Food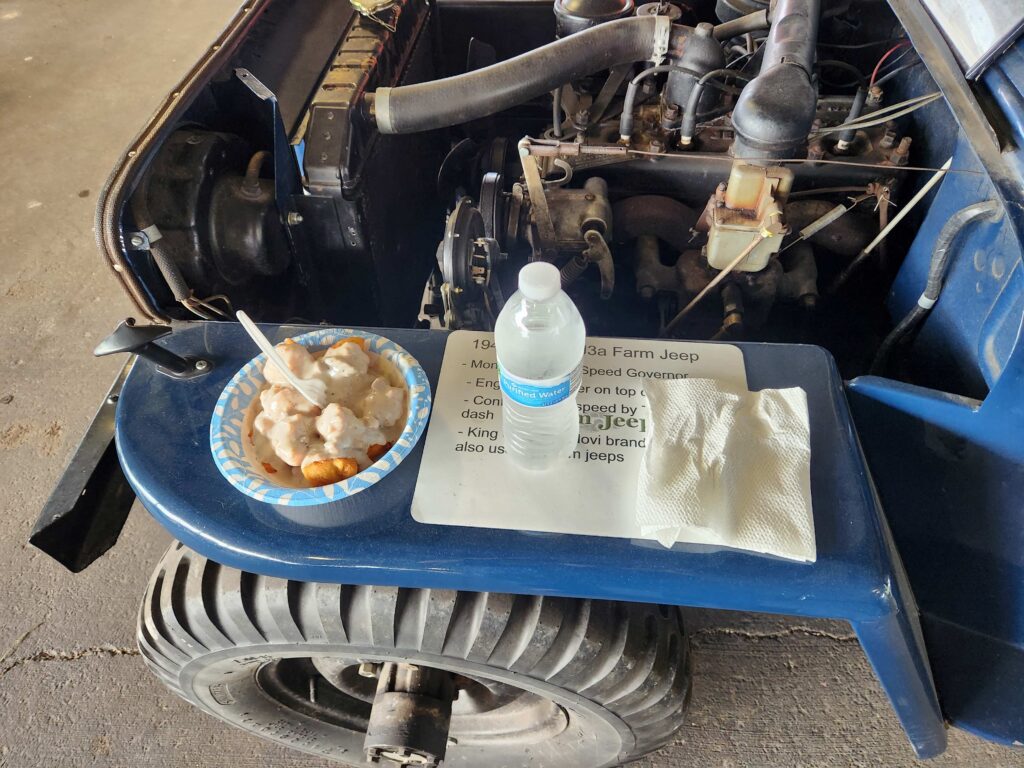 While you can't judge a book by its cover, you can judge a show by its food offerings. At least that is Barry's theory. This show gets high marks for the variety of vendors. A constant breakfast benchmark is the biscuits and gravy offerings. One food truck offered an interesting twist on this classic. Martinsville isn't located far from Brown County Indiana, known for its fried biscuits. Biscuit dough is deep-fried instead of baked and served up hot with apple butter. These delicious biscuits bring a sweet treat to any meal and are served breakfast lunch and dinner.
So Barry was a little surprised to see the fried biscuits served as the base for the sausage gravy. Is that even allowed? It was delicious, but Barry is still trying to determine if it is as good as traditional biscuits. In the name of science, he has vowed to test the dish again next year. We will definitely return.