Happy 4th of July! We consider this the mid-point of the summer show season. If the second half is as productive as the first, it is going to be a great year.
The Newgren plow gets an upgrade
We visit shows for many reasons, including looking for needed parts, both Jeep and implement related. Most shows include vendors, but we often encounter people who are willing to help us locate needed items. Such was the case with our newly acquired Newgren 16″ plow that was rescued from a Georgia barn.
Last season, Kenneth Miller, an exhibitor at a show, had seen our flyer asking for help. He had hunted through his son's antique plow collection parts bin to find us possible donor parts, including a share, coulter and land gauge wheel. It wasn't until winter that we had time to work on the plow. We managed to mount the share, but not the other items. It wasn't a major problem, since the plow is for display purposes only.
When we arrived at our first antique machinery show this year, Kenneth was there too. He asked why we hadn't mounted the other parts and we confused to time and more importantly skill issues. Kenneth volunteered to help with both.
The following day, we returned with parts and tools and Kenneth did the same. Together, we were able to quickly mount the coulter. The gauge wheel was more problematic. It would require some engineering work and more critically, some bending of a thick steel bar. Kenneth said not to worry, we have the farmer's friend, a blacksmith shop, on the grounds.
The next day, Kenneth arrived with the needed mounting parts, including the heavy bar. The members of the blacksmith shop made quick work of the metal bending and were happy to show off their skills. The bar and wheel fit perfectly. Somehow, a simple thank you doesn't seem enough, but thank you Kenneth.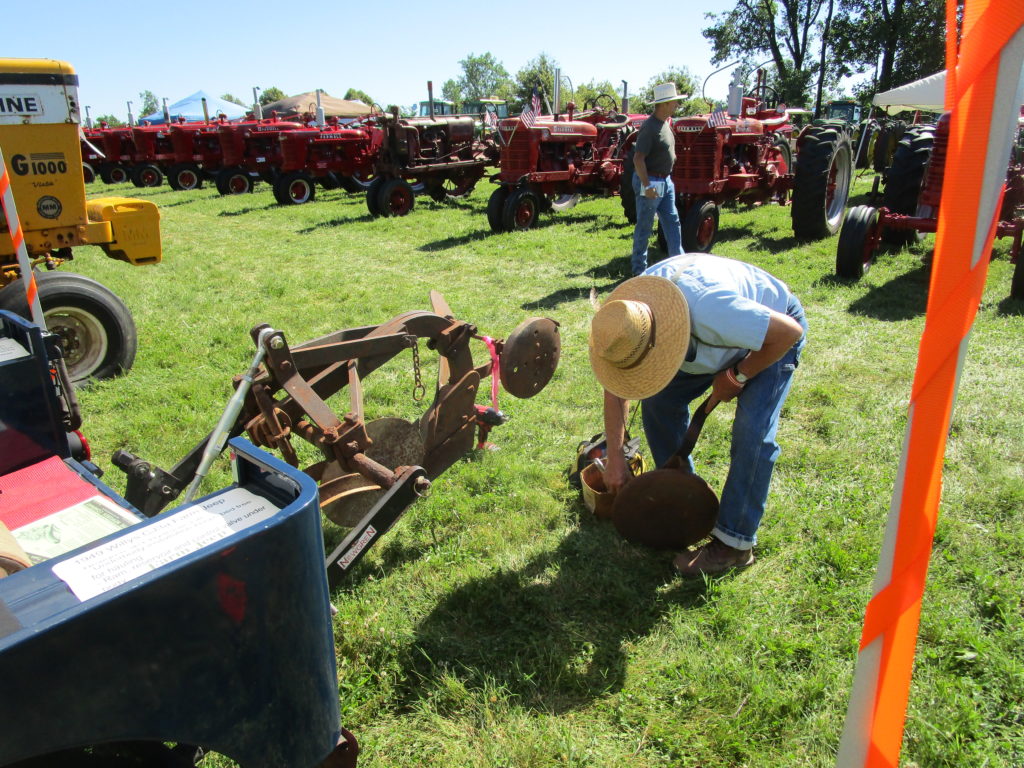 A Crosley Farm-O-Road Sighting
Another reason to visit shows is that you never know what might show up. We attended a show in Osgood, IN this year. This is the home show of Andy Boyd, who we first met at another show in 2018. Andy had his tribute MB, along with his daughter Emily's M Farmall at the show.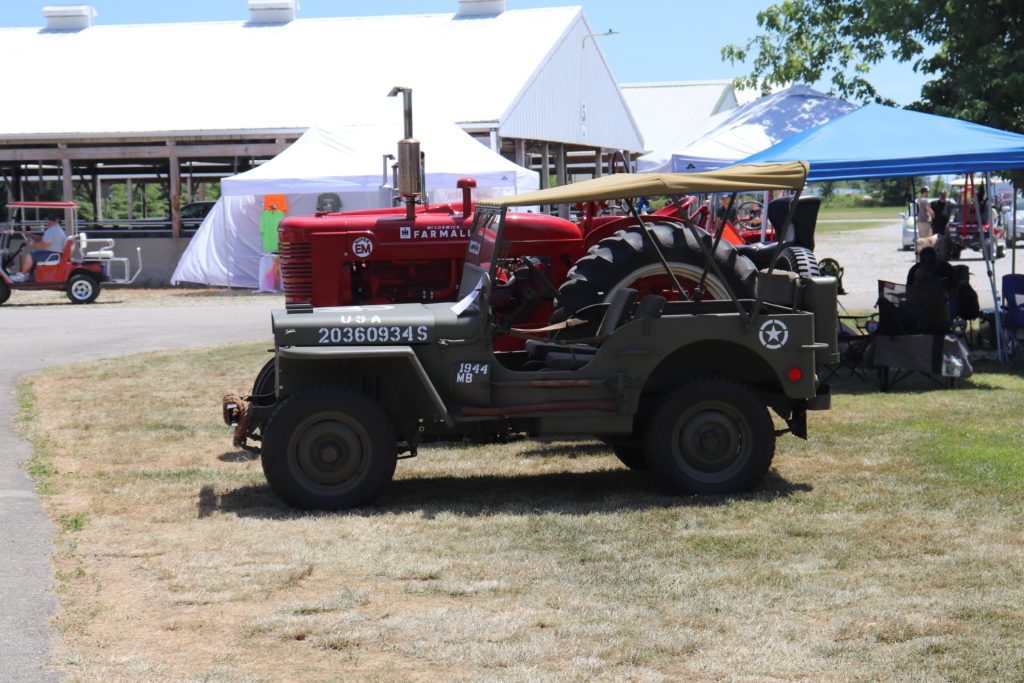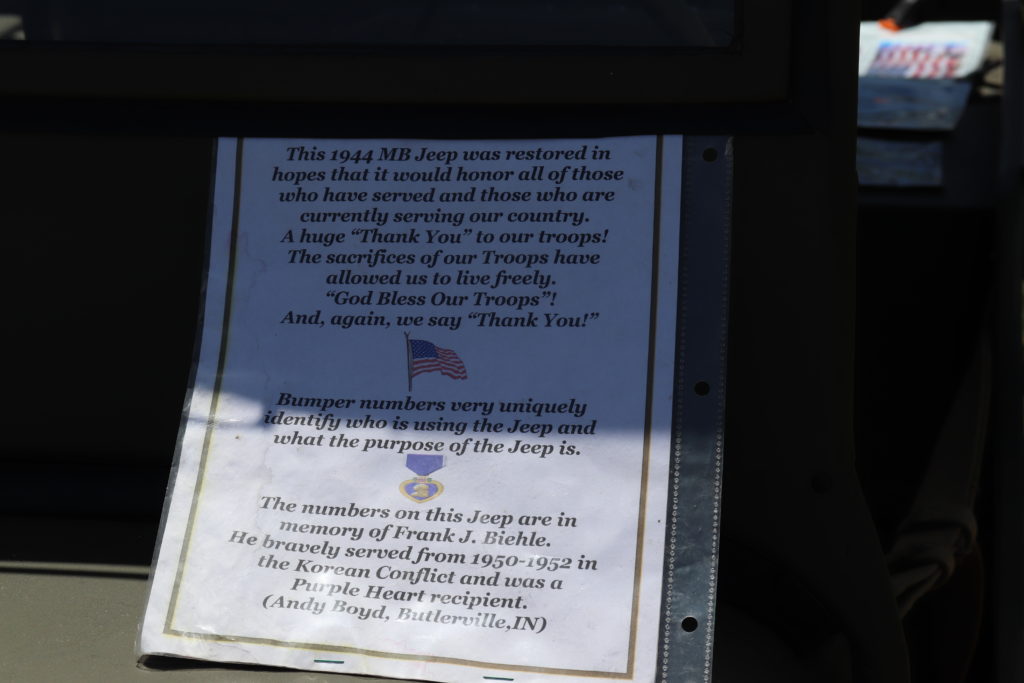 Also at the show was a Farm-O-Road.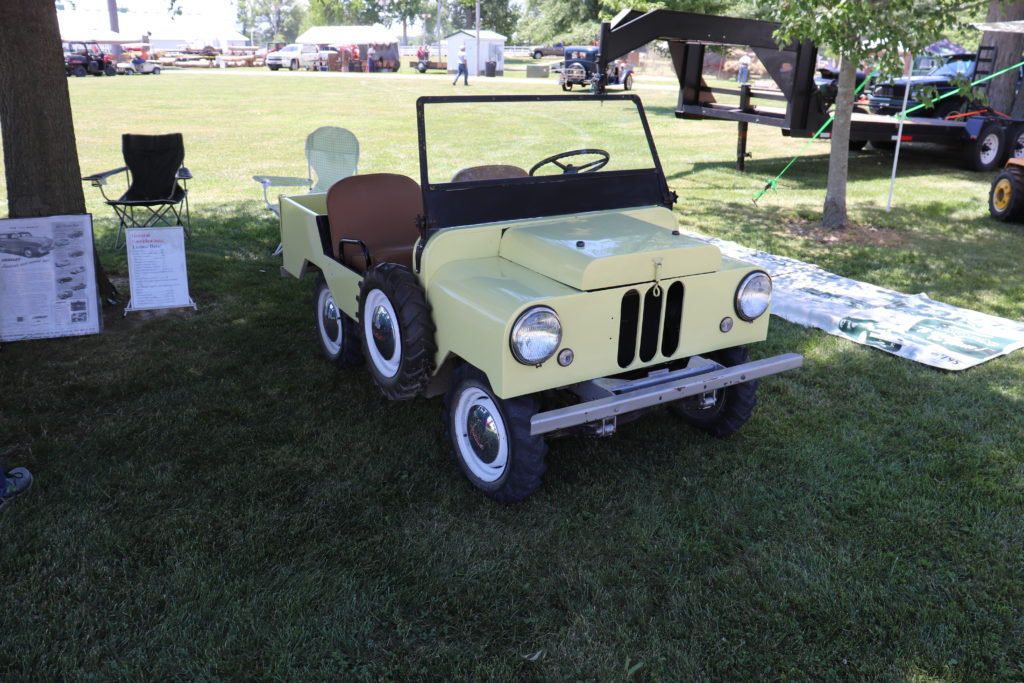 This was the first in person example we have seen. You can read all about it here.
A face made for radio
That is a saying from our all time favorite talk show hosts at Car Talk. And Farm Jeep did make its radio debut, thanks to Kenneth Miller. Kenneth's son, C.J. Miller was visiting his dad at the same show where we repaired the plow. Kenneth suggested that his son, in his role as a reporter for Hoosier Ag Today, visit our display. You can see and listen to the results here.