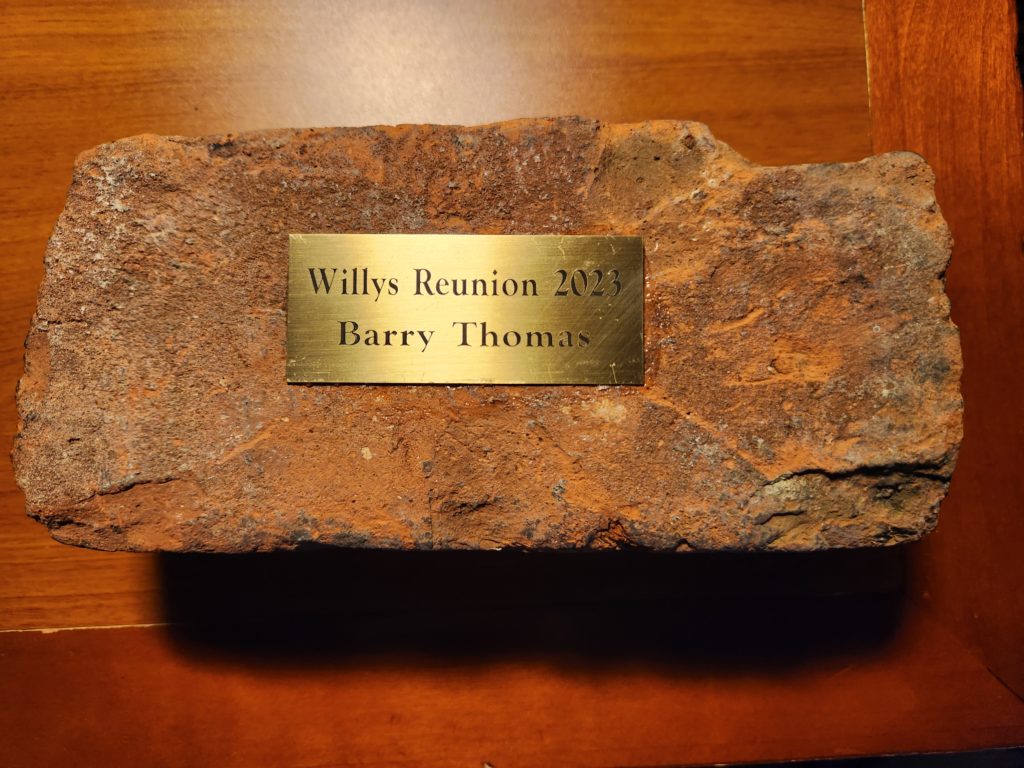 When Evan was a 1st grader, he was cast in the role of Davy Crockett for the school play. He marched across the stage as his fellow classmates sang "The Ballad of Davy Crockett. " After the performance, I asked him why he didn't sing along. His response was simple – "Dad, you don't sing your own song." I should have known that.
Today, I'm going to break that rule and sing my own song. At this year's Spring Willys Reunion, I received a "Toledo Brick" – a brick from the Willys-Overland factory – given to me for my work in documenting the history of the Farm Jeep. This is the second award that I have received from the Jeep community and I'm honored and humbled by both. This will be the acceptance speech I could never give. (I have given up public speaking after fighting stage fright for 50 years.) I have lots of people to thank.
Evan and I have had so much fun with this site and with the people we have met. I do the majority of the research and writing. I have that most precious of all commodiates – time. Being "retired" means I can afford to spend hours looking for tidbits of history. Evan is my collaborator and sounding board. His name should be on the award too.
Paula, my wife and partner of fifty-five years, deserves a special award. When I find a clue to an obscure fact, she has to listen to me go on and on, even when only one person in a million might be interested.
Then there is Bill Norris, editor of the The Dispatcher, who asked me if I would be interested in writing the history of the Farm Jeep lifts. I would never have considered writing a magazine article.
Leslie McManus is the editor of the Farm Collector magazine. I wrote to her when an article on the Farm Jeep that contained many errors was published. Leslie invited me to submit articles that would correct those errors. She also helped me improve my writing and kept me focused on her audience. I was honored when she made the Farm Jeep the cover photo and story for the first time in the magazine's history.
I wish there was a way I could thank all of the many people in the Jeep community that have helped me. A few of them are listed on this site under the Family and Friends section. I do want to thank Keith Buckley for taking the time to search his vast collection of technical documents for items related to the Farm Jeep. Those items have been the key to uncovering many facts about this tiny slice of Jeep history.
Finally I want to think Clint Dixon. Clint and I have never met in person, but have collaborated on research and writing projects. Just this week, Clint and I have been working on what may be the most obscure item that appeared on some Monroe lifts, the "adjustment bracket." Together, we will solve this mystery and will have great fun doing so. A post will appear soon that maybe a handful of people will find interesting. But it will make Clint and me very, very happy.
Thank you for letting me sing my song.
Barry