In normal times, we would be gathering our family and friends to celebrate Easter and the coming of spring. This year we will just be joining the rest of the world with virtual visits and remembering the good times of past years.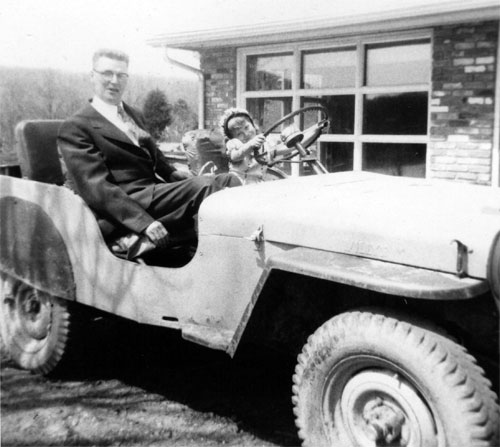 Pictured above are Paula and her dad in their Easter finery. The Jeep, a column shift model is also sporting fender skirts. You can read more about Jeeps in our family at https://www.farmjeep.com/family/jeeps-in-the-family/.
Two more friends added to the list
We are adding two names to our friends list today. These two individuals have shared their knowledge of the Monroe Auto Equipment Company (MAECO) and the Newgren Company. Jerry Wittkop was working for MAECO when the Monroe hydraulic lift was introduced. He has given us a first-hand look at this important part of Farm Jeep history. You can read a brief interview with Jerry here.
Clint Dixon has an incredible wealth of knowledge covering both MAECO and Newgren implements. How he came to be so interested in these two companies may surprise you. There is a brief introduction to Clint here.